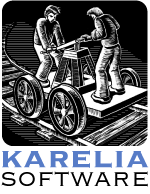 Greetings from Karelia Software!
Usually we send out these emails to announce a particular update to Sandvox. We will have a new Sandvox version out fairly soon, but in the meantime we wanted to share some other information you may find useful.
Good Karma
Some of you may have noticed a section on our website called "Good Karma" in which we point out Mac software, services, and events that we think are cool. We're adding this feature to our email alerts, and today we're giving some unsolicited testimonial to some packages you might want to check out.
SpamSieve — $30 from C-Command software — is recent discovery of ours. We have been trying a number of spam-filtering techniques here at Karelia, and nothing has even come close to this gem. It's an add-on that you attach to Apple Mail or just about any Mac-compatible client; its filters are astoundingly accurate. It's also trainable so its performance improves over time. We've arranged with C-Command to provide a coupon code that will reduce the price by $6.00 (20% off); just enter KARELIA07 in their online store under the "Got a Coupon?" section, between now and September 5.
Next up are two free add-ons for Safari. Inquisitor is a terrific extension to the search bar to provide spotlight-like instant lookup and multiple search engines. (We've configured it to provide easy lookup on Wikipedia and to restrict searches to specific sites.) PicLens is a cool extension that provides full-screen slide shows to photo web pages like Flickr, FaceBook, Google image search, etc. (And — coming soon with our next version — Sandvox-created websites!)
Sandvox Tips and Tricks
An additional feature we'll include from time to time are tips and tricks that Sandvox users have come across. Some of these have been discussed on our Yahoo user group. If you have any Sandvox tips, please share them with the Yahoo group or send them to us via the feedback dialog from Sandvox's Help menu.
1. Google Gadgets For Your Webpage are equivalent to Sandvox's pagelets. If you have Sandvox Pro, it's pretty easy to add one of these "gadgets" as a Raw HTML pagelet. You will need to set the width to 200 pixels (or less) to look good in Sandvox; you may want to adjust the height and the colors to match as well. (Note: Some gadgets look great at this width, but others don't do so well.)
2. It might be worth your while to look through the Hidden Preferences article in the Sandvox Help pages. We've included a number of options that may be useful to some people, but were a bit too obscure to include in the preferences window in Sandvox. You can fine-tune some publishing behaviors, adjust the default file names and extensions to be more compatible with your Internet host, adjust the behaviors of Sandvox each time it launches, and modify the types of pages created when you initially create a site document. Check out this page and see if any of these hidden preferences (which require the use of Apple's Terminal utility) help with your website.
3. We've been asked several times how we got a photo grid on our Home Page. It's actually fairly simple: we have configured the home page to act like a photo album. Look in the inspector (middle tab) for the "Collection" popup and set the index to "Photo Album". (You can customize this a bit if you wish by clicking on the disclosure triangle there.) Add your photos as pages under the home page; they will automatically show up in the photo album on the home page. Since pages automatically get added to the site menu when added to the top level, you will probably want to uncheck "Include in site menu" in the inspector for each page. For pages or collections in your website that aren't part of this photo grid, you should uncheck "Include in colleciton index" so they don't show up in the photo album.
Coming Soon
We'll be announcing the availability of Sandvox 1.2.3 fairly soon. Plus, we are working on our next major update to Sandvox. Stay tuned!