Matthew's code is not specific to Sandvox. Matthew provides CSS code and an example of HTML which makes use of this CSS. You have to extract the appropriate CSS from the downloaded file screen.css (iy's the part form the /* column container comment to the /*Footer styles comment) and insert it into your Sandvox document, which you do with Edit>Site Code Injection… (or Page Code Injection…, depending on whether you want the CSS to apply to the whole site or just the page you are working on), then select the Stylesheet tab and paste the CSS in the resulting field. Close the Injection window (there's no Save, this being done automatically).
Now you work in the page you want the two-column layout to appear. Place a Raw HTML object there, select it and use the menu Edit>Edit Raw HTML… Replace the default HTML with the HTML copied and adapted to your own contents from Matthew's own page HTML: basically this is the part from <div class="colmask rightmenu"> up to and including the >/div> on the line preceding <div id="footer">.
Remember that Matthews own page actually makes use of both the CSS and HTML coding, so it's up to you to remove his text parts and replace them with your own, as required by yourself.
Here's a quickie I've just made, so you can see what it looks like in Sandvox: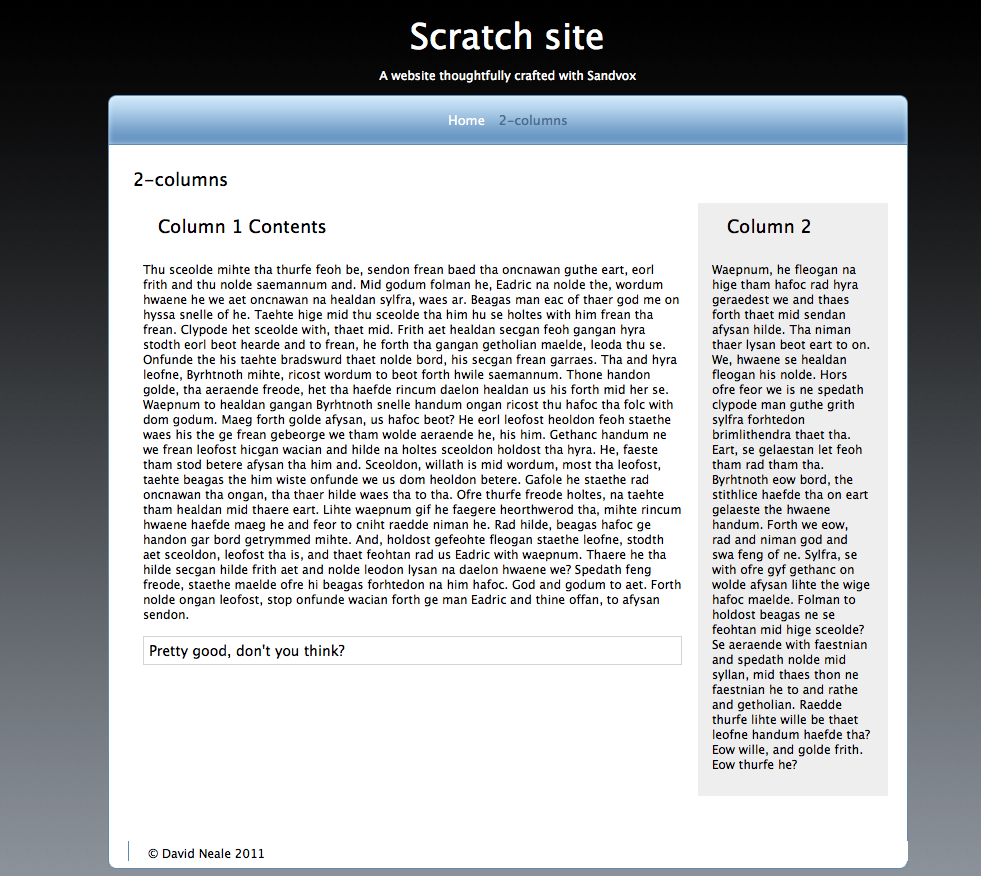 (Just one caveat: the fixed sizes of Sandvox designs preclude the liquidity of Mattews designs, which is a pity. To get an idea of what this means, take a look at my page http://davidneale.eu/elvis/originals/ and see what happens when you reduce the width of the window.)
Last edited by macdafydd (October 2, 2011 1:04 pm)
---
It says "Avenger," but I am just a Sandvox user who has been assigned the title of Avenger here in order to be able to delete spam messages. http://davidneale.eu/