I created a new Photo Album page and dragged a group of photos from the Media Browser into it. I then changed the Object Inspector to indicate that the captions should be taken from the page text (seems to work) and then Page Inspector Broser tab and indicated that Automatic Sorting should be Alphabetical. The result: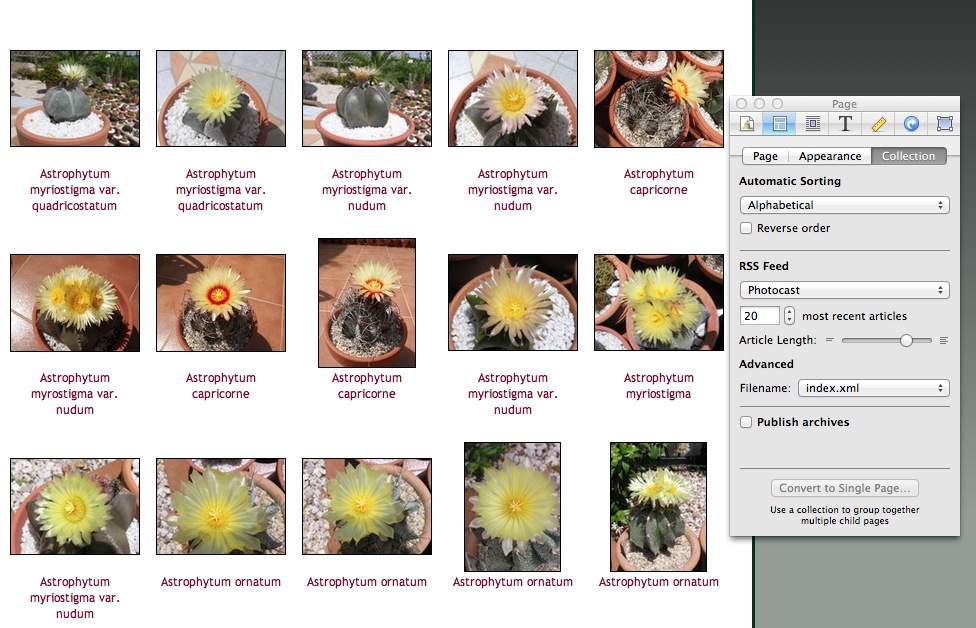 As can be seen, the photos are not displayed alphabetically the first should be Astrophytum capricorne, for a start, but the photos are all over the place).
Am I doing something wrong, or is this a Sandvox problem?
Edit: I think (but I haven't tested this fully) that the sort acts only on what Sandvox refers to as the "page titles" in the Captions section of the Object Inspector. In other words, the sort does not work on what is actually shown as the caption. This seems like an error.
Last edited by macdafydd (March 2, 2012 1:42 pm)
---
It says "Avenger," but I am just a Sandvox user who has been assigned the title of Avenger here in order to be able to delete spam messages. http://davidneale.eu/