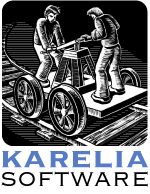 Greetings from Karelia Software!
Today is a big day at Karelia Software - we are releasing Sandvox version 1.1. We think that you will find the updates since the 1.0 release compelling! Our previous release was in August, which is almost an eternity in computer time! Over the months, we have watched our users build hundreds of beautiful websites with Sandvox while we have worked hard on this new version. Our focus has been stability; we have rewritten some of Sandvox's internals from the ground up in order to make the program solid and reliable.
Some feature highlights of this new release include: 8 gorgeous new site designs; a huge integrated help system; localization to Italian and Simplified Chinese; a 'snapshot' feature to save your work in progress; and greatly improved Flash file support. Plus a huge number of bugfixes that even the release notes cannot do justice.
We hope you'll give this new version of Sandvox a try. Download it here: