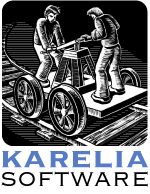 Greetings from Karelia Software!
We haven't sent out a mailing or new Beta of Sandvox for a month now; we've been busy focusing on programming! So please forgive our infrequent communications.
What's new with this version? We have fixed a lot of bugs and finished a number of missing pieces, related to editing, uploading and exporting, site designs, the inspector, and so forth. We've also snuck in some great new page and pagelet types, such as a contact form, site map, badges from Flickr and Stickam, and feeds from del.icio.us and Digg.
(Speaking of which, you can help spread the word about Sandvox if you have accounts on any of these sites by digging our new weblog entry, adding screenshots to Flickr under the sandvox tag, and deliciously bookmarking our website!)
Of course for a detailed list, you can check out the Release Notes (from the Help menu) once you've downloaded the new version.
When we first made the public beta of Sandvox available, we managed to overload our servers. We have switched Internet hosts, and we are crossing our fingers that they can handle the load. If there are problems, please let us know (and try downloading again later).
Of course we'd love to get feedback on this new version; we know there are plenty more bugs to fix. (But one topic per message please; it's very hard to track "laundry lists," even when well-intentioned.) Send messages to support@karelia.com or use the built-in feedback reporter from the Help menu.
Here is the URL for downloading. Please do not share this URL with others.