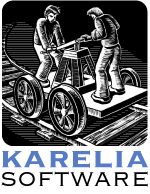 Greetings from Karelia Software!
It's been a long time coming but we've finally released version 1.0 of Sandvox! Thanks to all of you who have tried the beta versions, and extra special thanks to those who have submitted feedback.
Read on to learn about special discount pricing, and a bonus download!
---
Pricing
We've been promising to announce pricing for a while, so here it is. For the next month, until ______, we have a special introductory price.
Introductory Pricing

Sandvox: $39 Single-user; $59 Household
Sandvox Pro: $69 Single-user; $89 Household
(Site licenses also available. All prices are listed in US dollars.)
Your Special Discount
Some of you have earned a special discount by referring new people to our mailing list; our last message had the details about that. We've decided, as a way of thanking our mailing list membership, to offer all of you at least some discount. For current members of this list, we're offering a minimum discount of 10 percent off the already low introductory price.
To get your discount, choose Buy/Register Sandvox... from the Sandvox menu, and enter this coupon code: [EXPIRED] ... then click on "Apply Coupon" to recalculate your price.
To get your discount, you need to apply your coupon before _______.
The Download
If you have the older beta version of Sandvox running, click on the "Update Sandvox" badge in the corner of a document window. Or, just click on this URL:

A Bonus Package of Designs
Just for members of our email list, we also have a little bonus: a package of five additional website designs. Download it here.
Show us Your Stuff
Finally ... we want to know what websites you have built with Sandvox so we can show off what Sandvox can do on our home page! If you have a cool Sandvox-built site that is "live", drop us a line and we might link to your site or feature it in a weblog post!
Thanks again for all of your help. We hope you decide to purchase a license to Sandvox 1.0. Of course we'll be continuing to work hard to improve the program, so keep those comments coming!