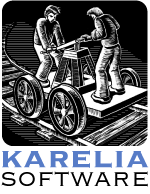 Greetings from Karelia Software!
We've just released Sandvox 1.2.4.
This release is all about Leopard compatibility. If you've recently upgraded to Leopard, be sure to grab Sandvox 1.2.4 to keep building websites in maximal style. Seriously, Leopard introduced some changes under Apple's covers, so we had to make some changes under ours. While previous versions of Sandvox may run under Leopard, you will eventually encounter problems. Sandvox 1.2.4 takes care of all that. It's our first, official Leopard-ready release and it's ready to go!
But don't worry Tiger users, we haven't left you out. Sandvox 1.2.4 also has a few nice improvements over 1.2.3 that make it a must-get update.
Updates of note:
Leopard-ready. (Did we mention that already?)
Media aliases now attempt to correct and save pointers to their new underlying locations. (This should improve compatibility with iPhoto '08, among other apps.)
Graphical title text size should now be consistent across all pages within a site.
Improvements to many designs, including better title placement and better browser compatibility.
We fixed a bug with duplicate media references and media garbage collection, introduced in 1.2.3, that incorrectly removed images under some circumstances.
We recommend that all Sandvox users update to this new version.
Download Sandvox 1.2.4 from:

Updates to Bonus Designs
Speaking of improvements to many designs, this includes the original Bonus Pack. If you're partial to Black & White, Cabernet, Dashed, Two Lines, or Mezzanotte, you'll want to be sure to grab the latest version of the Bonus Pack and install the designs by double-clicking on them. Download it from:

Good Karma
In keeping with tradition, we thought we'd tell you about one or two clever apps from like-minded Indie Mac developers that struck our fancy. We'll focus on Leopard Compatibility this time.
We've been recommending the free CyberDuck to Sandvox users who want to manually connect to their website. If you are using Leopard, you should be sure to update to one of the newest "nightly" versions of CyberDuck; it fixes a serious bug in the released version (2.8) that prevents editor save-back from working. Download "Cyberduck-3277.tar.gz" (or a higher number) from the list here.
Plain Clip is a nifty little free utility that you can drag into your Dock or the Finder's toolbar to instantly — without even opening a new window — remove formatting from whatever text you have copied on your clipboard. Sure, in Sandvox, you can choose the "Paste and Match Style" menu, but other applications don't always provide the option to remove text formatting. The application's website doesn't mention Leopard compatibility but we've been using it here on Leopard without any issues. Download it here.