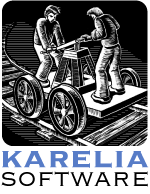 Greetings from Karelia Software!
We've just finished putting the finishing touches on a new version of Sandvox, version 1.2.3. We recommend that all Sandvox users update to this new version.
This release hasn't changed much on the surface from the last version, but we have improved a lot "under the hood." We have made some optimizations that greatly speed up performance when publishing large sites; Many of our beta testers have been pleased with the speedups in opening and navigating sites with hundreds of images. We have also improved the handling of images embedded with text, to speed up processing and fix a few bugs.
Some other updates of interest:
Many of our designs have been refreshed for better compatibility with Internet Explorer version 7. It is probably worth re-publishing your Sandvox site so that visitors using IE 7 will have a better view of your website.
We've added automatic support for PicLens, a Safari plugin that generates full-screen slideshows that we mentioned in our last mailing, in all photo albums and photo weblogs.
We've added some initial support for .Mac "personal domains" (see the Help pages for this)
Early Access: Stand-alone iMedia browser

Have you ever wished you could make use of the iMedia browser that comes with Sandvox and other applications, but from any application? Now you can.
In the next couple of weeks, we will be formally releasing a stand-alone iMedia browser utility as freeware. It's the same browser that is built into Sandvox, but packaged up as a simple application that you can access from your dock or from your menu bar. Use the iMedia browser to drag images, movies, audio files, or links into just about any application.
For now, we're making this available only to members of this email alert list. Download it here.
Some hints: open the Preferences window to change some behaviors of the window and how it checks for new updates. And click the "i" button in the upper right corner of the main window to flip the window over for some display options.