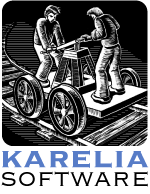 Greetings from Karelia Software!
We have just released Sandvox 1.2.7, a minor (but important) update to our award-winning website creation software for the Mac. We wanted you to be among the first to know!
This release has improvements for you whether you are running Tiger or Leopard. See the full list of release notes here.
Of note: We've added A2Hosting to our list of recommended web hosts. They offer some very nice, inexpensive hosting plans for personal websites as well as more full-featured plans. To help us kick off our new partnership, they are offering 10% off all A2 Hosting packages with the coupon code tenoffa2. This offer expires 30 June 2008.
Download Sandvox 1.2.7 right here.
Screencasts
If you haven't yet seen our screencast introduction, we recommmend you check it out to get a thorough understanding of what you can accomplish with Sandvox. We recently created an additional screencast showing how we built our own website with Sandvox that you may find useful.
"Sandvoxed" website showcase
Want to see some examples of websites built with Sandvox? Head over to Sandvoxed, a community website put together by our friends at Sandvox Web Designs. You can see "live" examples of Sandvox-built websites, and submit your own website to help build exposure for your creation.
Hunting for Easter Eggs
The Easter holiday has just passed, but in case you hadn't heard about the Easter mEgg Hunt, we wanted to let you know that it is happening until the end of March. This is a fun program that Karelia is participating in that will help expose Mac users to a variety of "indie" software. Just visit some of the participating websites, like our own, and click on the lightly-hidden easter egg icons to enable coupon codes good for a 20% discount off of Mac software. If you're looking to buy a license to Sandvox for yourself or somebody else, this is a great way to get it at a special price. Happy hunting!