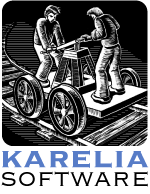 Greetings from Karelia Software!
iMedia Browser 1.1 is Now Available
We're pleased to share the news that we have just released a new version of our free iMedia Browser.
Version 1.1 provides a number of Leopard-specific fixes, adds support for Adobe Lightroom, brings in Help pages, and incorporates the feedback reporter that we have in Sandvox. You can see the full set of release notes here.
Download iMedia Browser 1.1 here.
Community Channels
We've had a Yahoo! discussion group for Sandvox for a while now, but we've recently added a couple of new ways to keep in touch with Karelia and other Sandvox users. A few days ago we created a Facebook group for Sandvox; please come by and join the group if you are a Facebook member! We've also created a Twitter feed for Karelia Software so you can keep up with what we are working on behind the scenes, whether it be Sandvox, iMedia, or our (still-secret) new product in development. If you use Twitter, please "follow" us and even send us little notes if you'd like by prefacing your own posts with @karelia.
Sandvox 1.5 is coming soon
It's been a year since the last big update to Sandvox. Since then, we've been busy working on a major new version of Sandvox — version 1.5 — a no-cost upgrade that will be available in the next couple of months. We're more than a little excited about what's new in this version; there are dozens and dozens of fixes and new features. So far only a few people outside of the development team have seen it, and the feedback we have received has been quite positive. Still, we're going to want to have some Sandvoxers look over the new version in Beta form before we are ready to unleash it to the general Macintosh universe. If you are interested in giving the beta versions some serious testing — not just kicking the tires — please send an email message to [EXPIRED] telling us briefly that you'd like to test and, ideally, how much beta-testing you've done in the past on Sandvox or other programs.
Of course, you can always get the latest version of Sandvox — 1.2.7 — here.