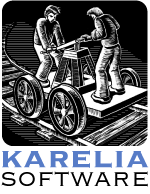 Greetings from Karelia Software!
Sandvox 1.2.8 for MobileMe Compatibility
It's been a very busy and news-filled couple of weeks for Mac users! The biggest news from Apple was the updated iPhone, but the other important event is the launch of Apple's MobileMe service.
We wanted to make sure that Sandvox is part of the transition from .Mac — Apple's previous service — to MobileMe, so that you, as Sandvox users, can stay up to date as well.
With that, we present the release of Sandvox 1.2.8. As features go, it's a minor update from 1.2.7, but if you want to start publishing to a website hosted at me.com, it's a big deal.
There are a few other new features in 1.2.8 as well, such as an updated iMedia Browser that now supports iPhoto Events and multiple Aperture libraries.
Download the new Sandvox 1.2.8.
Sandvox 1.5 now in Beta
We mentioned in our last mailing that we are working on a new version of Sandvox. We are very close to the release of version 1.5, a major (but no-cost) update to Sandvox.
Here is a small sampling of what will be new in version 1.5:
Improved blogging support
YouTube integration
Leopard QuickLook support
Multi-page inspector selection
New website designs
These many new features are completed, but before we can make it an official release, we want to get multitudes of Sandvox users to try it out and look for any last-minute issues we may have missed. If you want to "dig in" to get an early peek at Sandvox 1.5, drop by the Sandvox Beta page for more information on how to download it.
Sandvox Success Stories
Every so often we like to highlight websites that Sandvox users around the world have created.

Jaqueline Florine, an outdoor adventure athlete who just completed the "world's toughest footrace," the Badwater Ultramarathon, chose Sandvox ("Glass Box" design) to create a showcase of some of her adventures for her sponsors and fellow athletes. She wrote "I am not tech savvy so it was crucial that the software I chose be very user friendly and intuitive. Sandvox is all that and more."

Jean-Pierre Gilbert of Berry, France, uses Sandvox for Gilblog, his personal blog. This impressive website, using the "Wall" design, contains several blog collections (often indexed with photos instead of text), nested photo albums, horoscopes, book reviews, even a regional dictionary! The site gets about 200 visitors per day. Monsieur Gilbert and his website merited a story in an online newspaper (in French, of course).

Cheryl Fuller, Ph.D., a psychotherapist based on the coast of Maine, uses Sandvox to maintain her website, Jung at Heart, containing information and blogs about her practice and her passion for knitting. She writes:
I am a HUGE fan of Sandvox, having come to it from Movable Type. I love that I can do the work offline and then upload it. With the application, I am able to do much more than my feeble HTML skills would allow. As you can see from my site, I actually have 3 blogs nested there. This has enabled me to put forward a more complete sense of who I am while also allowing people to follow only those parts that interest them. I regularly get compliments for the look of Jung-At-Heart ("Sunburst" design) and that is all thanks to Sandvox.

Rick Sanford created the website for the Non-Governmental Organizations Human Settlements Committee for the United Nations in New York. He chose Sandvox partly for the rapid development, partly for the variety of designs available ("Skyline" in this case), partly for the general reliability of rendering on various platforms' browsers and partly for the ease of use. He also has a Sandvox-created music website.
If you've made a website that you'd like to share, reply to this message with your website's info and story, and we'll try to feature it in an upcoming mailing or blog entry.
Sandvox Pro Tips
One of the great things about having the Pro edition of Sandvox is being able to include items on your website that we at Karelia hadn't (yet) thought about including "in the box." Many Sandvox users have come up with some interesting ways to extend Sandvox by adding in HTML snippets that they've gotten from other websites. Here are a couple of ideas:
If you're writing a blog, one of the most important things to do is to let your readers know when there's fresh content. Sandvox makes this easy by automatically building RSS feeds for every blog. But there are other ways to get the word out. For example, FeedBurner, now owned by Google, runs a free service that will automatically email site updates to your subscribers. Simply paste in a snippet of HTML from FeedBurner and you get a place for people to type in their email addresses and join your list. More info at Feedburner.
Looking to sell single items on your website? "Buy Now" Buttons from PayPal can make this simple and straightforward. Rather than getting bogged down with a shopping cart, a Buy Now button is tied to a single item that you wish to sell from your site. PayPal provides a Button Factory for creating customized payment buttons: you just enter the name of the item, a unique ID, and its price. PayPal provides you with HTML for a pre-configured button that takes the customer directly to a secure PayPal payment page to complete the transaction. Just paste the HTML into Sandvox and you're in business! More info at PayPal.
See you in the Sandvox!