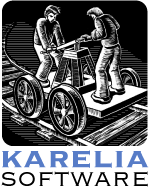 In this email: Sandvox 1.5.4 · Jumsoft Designs · Sandvox Forum · Google Analytics Tips · Great Sandvox Sites
Greetings from Karelia Software!
Update Alert: Sandvox 1.5.4 Now Available
Version 1.5.4 of Sandvox, another maintenance release with helpful updates and fixes, is now available for downloading. Complete details can be found in our release notes, but we'd like to note a few highlights here:
Automatic addition of the JS-Kit comments service via the Site Inspector: The JS-Kit comments service is superseding Haloscan, although Sandvox will continue to support Haloscan comments for preexisting sites with a valid Haloscan comments ID.
RSS feed generation fix: Some Sandvox customers reported that their blogs' RSS feeds were not working as anticipated; thanks to their feedback we've made adjustments. If you've experienced problems with your site's RSS feed, download version 1.5.4 and republish your entire site.
If you were running 1.5.3 and you had some problems upgrading your old 1.2.x Sandvox document, this version fixes some problems that you may have had.
Version 1.5.4 is a free update for all registered customers, so download it today.
Jumsoft Designs for Sandvox

Jumsoft Designs, a noted designer of Mac applications and of themes for Keynote, Pages, and iWeb, is now offering five Sandvox design packages based on their most popular themes: Sensitive Steel, Color Beauty, Business, Paradise, and Rainbow.
Live demos are available on the Jumsoft site, and designs are available for purchase individually or as part of a design pack for cost savings.
We're very happy to welcome Jumsoft to our growing list of Sandvox designers and developers. Whether you're looking for a new design for your Sandvox site or like to spark new ideas for your site's look and feel, be sure to visit Jumsoft and check out their work.
Sandvox Forum Gaining Members, Momentum
Many members of the Sandvox community contribute to and benefit from the Yahoo! forum that's been a source of advice for new and experienced users alike. Did you know that there's a second forum, one that provides more direct input to Karelia's engineering team? Visit the Sandvox Forum and share your feature requests, bug reports, site announcements, and other feedback with other customers and our staff. Using this direct forum allows us to track issues and requests more easily, and that means even faster response times to the questions that matter most to you. Communication with our customers has been a key ingredient of Sandvox's success, so don't be shy! Visit the forum today.
Pro Edition: Google Analytics Update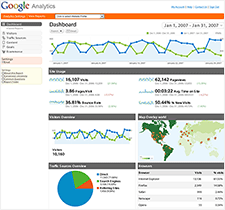 Sandvox Pro Edition users who are currently using Google Analytics or are interested in drawing upon this powerful tool should be aware of The Official Google Analytics Blog. Billed as "the latest news, tips, and resources straight from the Google Analytics team," it can be like having a Google Analytics expert at your fingertips, without the consulting cost!
A topic came up on this blog a few days ago that affects Sandox Pro users who use Google's system. You may wish to update the Google Analytics code for your site if visitors have been receiving a JavaScript error. While not critical for all Google Analytics users, it's the kind of detailed advice — complete with code snippets to copy and paste into your own site — that makes the Analytics blog an exceptional resource.
For current Pro Edition users of Google Analytics, log in to your Google Analytics account, edit your profile, then click the "Check Status" link on the right side, above the topmost dark grey header. This will display the updated version of the code you need to paste into the Sandvox Site Inspector (in the "Google" tab). Be sure to publish your site after making the change so that your pages get this change!
Expanding Our Site Gallery
We'll soon be adding several new stand-out examples of our customers' handiwork to the Karelia Site Gallery, but in the meantime wanted to share two sites that have recently come to our attention: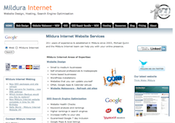 Making excellent use of the flexibility and layout of Blueball's Pro Tabs design is the site for Mildura Internet, a website design, hosting, and consulting company based in Mildura, Australia. Michael Quinn and his team have created an easy-to-read, content-rich site that uses the Raw HTML features of the Pro Edition to great advantage. Using Raw HTML pagelets, the Mildura home page offers visitors the ability to search the site, to link to their LinkedIn profile, and to follow their news on Twitter; the same page also offers examples of the company's work, lists of clients, a contact form, and an overview of the company's services. All the information is presented cleanly and clearly, with helpful graphics interspersed for visual interest and to help guide the reader. The Pro Tabs design lets site visitors easily identify and find their way to other pages that describe Mildura's services and the company in more detail. We're delighted to share their site with you to illustrate how you can pack a lot into your site without sacrificing readability or elegant design.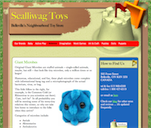 Being an independent retailer is a tough business in any economic climate, but Scalliwag Toys has been going strong since 1985 in Belleville, Ontario. We were intrigued when we read on the Scalliwag blog about Karin Belanger's can-do attitude when faced with the task of rebuilding their store's website:
This problem was compounded by my Scrooge-like nature: I hate to pay for anything that I can possibly do myself. The flip-side of this characteristic is a "can-do" attitude, of course -- but, like so many fixer-upper projects, the website turned from a creative exercise into a dead weight that I could neither cope with nor (in keeping with that thriftiness) farm out to a third party to take care of.

So in 2008 I admitted defeat and started the search for a better, newer, HTML editor. To my surprise, I found that editors have evolved over the past few years into true website-building software, in which the site builder gives up some creative control (no more raw HTML for me) in return for stunning simplicity and ease-of-use. The software I finally decided upon is called Sandvox, from a company called Karelia. I couldn't be happier.
And we couldn't be happier to have Scalliwag Toys as part of the Sandvox community! Using the Sandbox design as the basis gives the site a playful look, but the clean font, great organization, and use of product illustrations is anything but childish.
See you in the Sandvox!