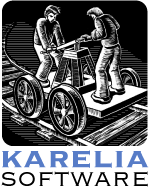 Greetings from Karelia Software!
iMedia Browser 1.2 is Available
We've just updated our popular and free iMedia Browser to version 1.2. This update is filled with improvements: speed-ups, improved Microsoft Word compatibility, new search and preview abilities in the Audio module, double-clicking to open images, and much more.
Sandvox 1.6.1 Update
Last week we updated Sandvox to version 1.6.1. This release includes a number of fixes that we weren't able to get into the 1.6 update. Many of the improvements are in the publishing engine, with additional improvements in RSS handling, JS-Kit comment integration, and design updates. It also refreshes the built-in iMedia Browser to a version similar to the stand-alone release mentioned above. Read the full release notes.
If you are using any of our "Bonus Designs" you may want to refresh to the latest version of these as well.
Sandvox Topical Screencasts
We are starting to create a series of topical screencasts, about five minutes long (more or less) to help Sandvoxers deal with advanced topics. Our screencasts on integrating Google Analytics and using Google Webmaster Tools and Google Sitemap are available now. We'll have more available from our blog as they become available; our next one (about Collections) will be out in a few days. If you would like to subscribe to the screencasts via iTunes, open up this iTunes Store link to subscribe, and also to rate or review the podcast.
Off-Site "How To" Articles
To help people who just getting started in building a website we've written several articles that offer useful tips and techniques, including:
We are also preparing guides for various kinds of small businesses, so if you have an idea for a general "how to" guide (and you would like to have your website featured as an example), please reply to this message with your ideas.
Getting More Exposure For Your Website
In our previous newsletter we mentioned Sandvox Sites, which we're creating to help Sandvoxers gain exposure for their websites. Over the last few weeks we received a few hundred early submissions, which were very helpful in ironing out some early issues with our submission forms. We have finally launched the website, with new submissions being taken "live" each day now. (It will take Google a short while to notice these entries, but it should help drive more traffic to your website if you enter some useful descriptions of your website.) If you want to see what some people are doing with Sandvox to build their websites, come Check it out!
If you are a Sandvoxer who hasn't submitted your website (or websites) yet — or if you have and you'd like to edit your description — go to your private URL:
* * * * * * * * * *
(You can also access the submission page directly from Sandvox 1.6; chose "Submit to Site Directory..." from the "Site" menu.)
See you in the Sandvox!