Greetings from Karelia Software!
Two and a Half Hours of Sandvox training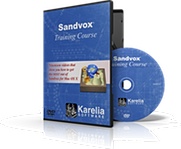 We're about to launch a brand new training DVD for Sandvox that tells you everything you need to know about starting your own website. In over two hours of video, we show you step by step how to master the basics of Sandvox, and create a truly stunning, unique site that you'll be proud to show people. If you haven't quite been ready to "jump in the Sandvox," these videos may be what you were waiting for! (Plus, read through to the bottom of this message for a special discount on Sandvox licenses.)
Because we're looking for feedback on this product that we can incorporate into our materials for its launch, we are offering every subscriber of our mailing list a discount of nearly 50% off the usual price of this brilliant training course.
Mailing List Special Deal
Sandvox Training DVD: Only $149 $79 (plus shipping & sales tax)
This special price is only valid for a few days, through May 3, when we will be announcing the training to the general public. The price will go up on May 4th, so be sure to order the training now!
Our DVD is designed to help new users get up and running as quickly as possible, and more experienced users make their site even better. We take you step-by-step through the most used and popular functions of Sandvox, helping you set up and edit your own site quickly and easily. In no time, you'll be using Sandvox like a professional! Use Sandvox to create a professional site that you can manage and edit yourself.
19 professionally produced training videos
Step by Step learning at your own pace
Suitable for beginners to advanced users
50% (almost) discount offer only available to list members for a very limited time
Check out our free example chapters — Collections and Banners & Logos — and get a taste for this great training.

What's in the training?
There's two hours and thirty minutes of video content for you to explore, taking you from basic functions right up to the most advanced features of Sandvox. Learn to create your first-ever page, or if you've already been using Sandvox for a while and want to do more, then skip to our later chapters. You'll learn how to add pagelets, start blogging, and inject custom HTML code.
Master the basics of Sandvox
Shortcut your way to easy site editing and advanced features
How to structure your site for Google exposure
Learn who's visiting your site, and what they're reading
DVD Bonus Materials

Besides containing the training in the standard video size (suitable for viewing on your Mac or your iPad), the DVD also includes the following bonus materials:
Full-size videos for watching on larger displays
iPhone-ready videos
Online access to videos
Transcripts of all videos as a PDF Book — includes HTML code snippets
Sandvox documents that we used in the training videos
Alternative: Get our Online-Only Version
If you're on a tight budget, you might want to get our online-only training videos instead of the full DVD package. You won't get the bonus materials listed above, but you'll be able to watch the videos online at any time. The regular price for online-only access will be $79 but our special pre-introduction price is $55.
Your purchase is guaranteed.
As on all of our products, the same great guarantee applies. That means if you buy the training and don't like it, we'll refund your payment, no questions asked.
Remember: the offer lasts only through May 3 and is only available to members of this mailing list. We will soon be increasing the price to $149 for the DVD and $79 for our online-only access.
(Note that the special pre-launch price of $79 for the DVD is the same as the regular price for the online-only access!)
So take a look at the chapters, view our example videos and get ready to dig in!
Special Discount on Sandvox Licences
If you are now ready to purchase a license to Sandvox, we're also offering a special discount on that as well. You can take 25% off the cost of a Sandvox license by entering the coupon code "Training" at our online Sandvox store. (You don't even need to get the training videos to take advantage of this sale!) This sale also ends after May 3rd.
Application Downloads
Other Downloads
(Only for our newsletter subscribers)

"77 Ways to Get Traffic" eBook
On the Social Networks

Twitter: Follow @karelia
Useful tidbits posted daily!

Facebook:
Become a fan of Karelia and join Sandvox group
Facebook-exclusive Sandvox discount!

Yahoo Groups:
Join our Sandvox Group
Connect with other Sandvoxers!