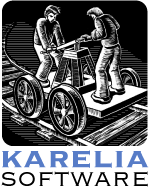 In this email: iMedia 1.1.3 · Getting Your Website Noticed · · Prices Increasing Soon · Sandvox 1.6 Beta
Greetings from Karelia Software!
Update Alert: iMedia Browser 1.1.3 Now Available
Version 1.1.3 of our free iMedia Browser is now available for downloading or via iMedia Browser's built-in Check for Updates mechanism. This is a minor, but important update, fixing an issue with thumbnails and improving support for much larger iPhoto libraries. Don't miss this update!
Getting Your Website Noticed

Most of our mailings talk about Sandvox, our award-winning website building application. For this mailing, we thought we'd take a step back from the program itself and talk about how to get your site noticed. Although this is written with Sandvox in mind, these are useful techniques whether or not you are using Sandvox to build a website.
Unless you are building a site to share only with a few family members, you probably want to make sure that it can be found by as many people as possible in your potential audience. This applies whether you have a website for your business, a gallery of your creativity, an informational resource for a church or club, or really any other type of use.
Sure, maybe you just handed somebody a card with your website's URL on it, or they stumbled on to you by clicking a link to your site from elsewhere on the web. But most of your visitors are probably going to use a search engine to find sites, and they probably don't know it's you that they are looking for! Therefore, it's very important that you take appropriate steps for your site to be found.
There is an entire industry built up around this concept; it's called Search Engine Optimization, or SEO. While there are few practitioners of this who try to fool search engines into pointing to deceptive sites — a form of spam, really — the term SEO usually refers to legitimate, straightforward techniques to help search engines, and thus everybody out there, find your website. In this message, we'll be just dipping our toes in the shallow end of the pool, so to speak.
Getting Registered
As soon as you have published it for the first time, you should make sure that search engines (like Google, but also Yahoo! and others) know your website even exists in the first place! There are some easy shortcuts for doing this if you have Sandvox Pro — see below — but even if you don't, there are still some important steps you can and should take. By the way, you can upgrade your Sandvox license to get a Pro edition from our web store — you will need your original license key — or by choosing "Buy/Register Sandvox..." from the Sandvox menu.
The most basic way to submit your website to Google for indexing is to fill out this form. You only need to do this once, for your home page. It will take a few days for Google to get around to visiting. And, it may actually be a while before the site shows up on Google's index because they put new domains on probation for a while to make sure they are not spammy websites.
Speaking of spammy, don't be tempted to use a paid service to submit your website to hundreds of search engines. Most of these are clones of the top search engines, and once they have links to your site, the site will be found by all of the search engines.
That said, and although we are mostly discussing Google in this message, it's worth also submitting your site using this form at Yahoo! and this form at MSN Live Search, the #2 and #3 ranking search engines.
In Sandvox Pro, we've made it easy to announce your site to Google — this proves to Google that you are the owner of your site, giving you access to their suite of handy Webmaster Tools — and to publish a Site Map, a Google-readable file that perfectly describes your website's structure to Google. If you have Sandvox Pro, we highly suggest setting that up now. Open the inspector, choose the Site segment, and then the Google tab below. The URLs you need are right there in the inspector. If not, this is a good reason to upgrade to Pro. :-)
If you have a local business or group, you'll probably also want to submit your website for indexing so that people in your local area can find you. Here are the starting points for Google, Yahoo, and (warning: Firefox/IE only) Bing/MSN Live. GetListed.org also covers multiple, local directories.
Relevant Content
This may seem obvious, but it's important that if you want people to find you during a search, your site must contain the text that they are looking for! This absolutely does NOT mean that you should fill up your pages with dozens of potential search keywords; that's counterproductive. But the content should speak the language of the people you want to find your website. Are you using industry jargon to describe the services that your business performs, or are you using layperson terms? Listen to your customers and use the words that they are using. If you do this, your potential visitors will find and understand you, and it will make Google happy too!
What this boils down to is that Google likes the same kind of content that your visitors like. There are only a few things to keep in mind:
When you have images, always use the inspector to enter a description for the image. (In technical terms, this is called the "alt tag.") Doing so will not only help people who have trouble seeing the image, it will also be additional, relevant content for Google. (Although Google doesn't seem to use image description text for determining the importance of a page, they do collect and index that content just the same.) The description will also help people find appropriate content when using Google's image search.
Be sure that each page on your website has a decent amount of text on it. Google wants to see unique pages, and it can only tell if this is the case by scanning the page's text. If you have only a few unique words on a page (such as a title and a small caption on a photo page), with the rest being "boilerplate" text (such as the page header, site menu, sidebar, and footer) — which Google doesn't realize is appropriate window dressing the way a person does — Google may shun your page.
Feel free to enter keywords (tags) for a page, but don't overdo it. Apparently Google doesn't really make much use of keywords, though other search engines do. 10 keywords is more than enough, and they should be words that appear on that page.
Give your page a decent, descriptive title so that when your website is listed at Google, Google will show a useful and compelling title. It's best if your page title (and even your site title) contain the keywords that people are likely to search for.
Make sure that the file name of each page is human-readable and contains useful words as well. (Sandvox automatically generates file names, but these are customizable in the page details area in the lower left corner of the Sandvox document window.)
We have something coming in Sandvox 1.6 (due out in the next month or so) that will give you even better control over the page title and description that are presented to Google. See below for beta information if you want a sneak peek of this!
Inbound Links
Once your website is up and running, it is imperative to get some relevant websites linking to your website. (And not just to your home page, but to any relevant pages on your site.) Google considers a website to be important based on how many other important and topical websites are linking to it. Think of it as how reputation or authority works with people: the more highly-respected people (in the same field as you) refer you, the more highly you will be regarded. (Do not be tempted to submit your website to a so-called "link farm"; this is not helpful.)
If there are any directories, groups, or associations that are related to your website's content, you should contact those groups and ask for a link to your website. Participate in online forums and comment on weblogs that are relevant as well. Even though most of these websites will encode links to your website in a way that won't help with your ranking (a necessary evil due to spammers), people who are interested in what your website has to offer will see the link and possibly mention it on their own websites and blogs, where it will help your ranking.
Another way to get nice links to your website is to post a press release — if you're on a budget, do a search for 'free press release' for some ideas — that links to your website. Just be sure to use good customer-centric keywords in your links back to your own website.
Make sure that your pages link to each other. If you have a Site Menu, some of this will be automatic, but you can also create hyperlinks in your text by selecting a relevant word or phrase, choosing "Create Link" from the toolbar, and dragging the target icon to the appropriate page.
Try to get the links to your pages to be relevant keywords that people might be searching for, not meaningless terms like "click here."
Sandvox-Only Inbound Link Opportunity

Here is a unique opportunity for inbound links, just by being a Sandvox user. We are in the process of setting up a website "SandvoxSites.com," which will serve as a directory of websites built with Sandvox. We hope you will submit your site — or sites — to this register. But it's not just a list of websites, because such lists are close to useless as far as improving a site's ranking with Google. When you submit your site, we will be "interviewing" you, asking you to describe how you used Sandvox, what your website is about, and what kind of visitors you hope to attract. The goal of this approach is that each page contains relevant content, and thus will be a strong link to your website.
(We only have the submission form in place right now — soon, we will process the submissions and publish them on the site.)
Please fill out the submission form here; this is your private URL:
* * * * *
Don't pass up this opportunity for free publicity for your website. Please do set aside some time to type in thoughtful answers before proceeding.
Uh-oh, this is going on too long!
There is so much more to say, but we don't want this message to be overwhelming. So what we've done is continue the article over on the web. To reach a broader audience, we've put up this article on the awesome content-sharing site Squidoo. Please visit "Getting Your Website Noticed" and read the whole article. Additional topics to check out include:
Frequent Content Updates
Calls To Action
Book Recommendations
We'd love it if you would post some comments to the article, and if you like it, rate it with multiple stars. We'll continue to update the article over time. And while you are visiting Squidoo, check out our Sandvox page there as well.
We hope you have enjoyed this article. We're really just scratching the surface of SEO but wanted to make sure you knew about these critical first steps in getting your website noticed.
(Thanks are due to Sandvoxers Michael Quinn and Geoff Wells for their helpful reviews of a draft of this guide.)
Sandvox Prices Increase March 1

On March 1, we will be raising prices — just a bit — on Sandvox licenses. You may already have Sandvox, but in case you have friends that have been procrastinating in purchasing a license, now is a good time to give them a gentle nudge. And you can upgrade your own license to Sandvox Pro to take advantage of the great search engine features we mentioned above. If you've been putting off getting Sandvox for yourself, there's no better time to "jump in the sandvox" while the prices are so low.
Stop by our web store for all your license needs!
Sandvox 1.6 Now in Beta Testing
We've been working hard on Sandvox 1.6, which should be out soon. We are very excited about some of its new features! If you are interested in a beta version — we've been using it to build the Karelia website for a while now — we invite you to give it a try. There are a few rough edges — be sure check out the release notes — but we think it's stable enough for use. (However, our advice is to make a copy of your website document before using the beta, just in case.)
To get the new beta, launch Sandvox and open the Preferences window. In the "Check for updates" popup, choose "Include beta versions." Then, click "Check Now."
See you in the Sandvox!