Greetings from Karelia Software!
Sandvox 1.6.7 is now available

We are pleased to announce the availability of Sandvox 1.6.7, a free update to all registered Sandvox owners. This is a minor but important update that fixes some issues with non-English websites and domains (including a new Writing Direction menu for right-to-left alphabets), along with improvements to RSS feeds, video pages, and the Flickr badge. It also fixes some publishing issues.
You will be notified automatically within Sandvox of the new version for instant download when you launch it, or you can download Sandvox 1.6.7 directly here.
Spotlight on BannerZest:
Animated Flash-based banners

From time to time, we like to spotlight other interesting applications by Mac developers. When the products from other developers can work with Sandvox, so much the better! This month, we'd like to suggest you check out BannerZest, an application from Aquafadas that allows you to put animated banners and slideshows on your website. Choose from many different effects: carousels, zoomable image walls, flipping photo stacks, and more. Aquafadas provides instructions on how to integrate their animations into a pagelet and into the banner area (Sandvox Pro edition required).
Download or read more about BannerZest. (en Français)
Aquafadas is offering a generous 30% discount off of BannerZest, standard or Pro edition. Just enter the coupon code BannerZest2010 when you check out from their online store. This coupon code is valid through 30 July 2010.
Numerous New Sandvox Designs
This month has been a busy month for several of our designer friends who create add-ons for Sandvox. We have new designs from a long-time Sandvox designer, a new packet from a contributor that's new to the Sandvox world, and a giveaway of five designs!

Jumsoft, makers of several Mac applications as well as digital stationery and templates, has just released a free bundle of five designs that up 'til now were selling for $12.99 each. Go to the Jumsoft Goodies page and download them while they are free!

Blueball Design has a number of updates to announce. They have updated several of their existing designs (choose "Discover Plugins..." from the Sandvox menu to check if yours need updating). A couple of weeks ago, they released Blueball Minimal Colors, a design that contains nine wide design variations, each with a soothing color palette and a great headline font.

Blueball is also holding a sale! Through Midnight (EST) July 4, all of Blueball's designs will be 30% off. Just enter the discount code BlueballSummer30 on their checkout page and update your cart. This discount also applies to their new releases listed here, so don't delay!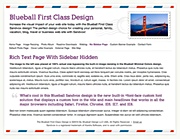 Just yesterday, Blueball introduced Blueball First Class, a distinctive design with 6 variations that they describe as being "perfect for family, vacation, & travel blog sites". We love the title font and the postal theme! If you use the discount code above, this design is a mere $7.00 through July 4th.


Finally, we'd like to welcome 11Mystics to the community of Sandvox designers!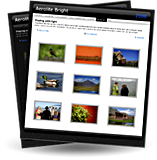 Their first design for Sandvox is called Aerolite, available in light and dark variations. Be sure to check out the demo pages and mouse around: while these sleek designs are compatible with older browsers, they take advantage of modern browsers like Safari with some elegant transitions, such as when you hover over links or image thumbnails. Plus, it's extremely customizable using Sandvox Pro's HTML Code Injection if you want — see the demo pages for examples and instructions.
Aerolite is an auspicious debut, and we expect many more great designs from 11Mystics in the near future!
In This Issue
Sandvox 1.6.7
Special discount: BannerZest
New Sandvox Designs
Websites of the Month
Application Downloads
Other Downloads
(Only for our newsletter subscribers)

"77 Ways to Get Traffic" eBook
Sandvox Design Providers
Get the latest updates from all design providers
Sandvox Sites Directory
Examples of Sandvox-Built Websites contributed by people like you
On the Social Networks

Twitter: Follow @karelia
Useful tidbits posted frequently!

Facebook:
Become a fan of Karelia and join Sandvox group
Facebook-exclusive Sandvox discount!

Yahoo Groups:
Join our Sandvox Group
Connect with other Sandvoxers!
Sandvox Video Training
A step-by-step screencast tutorial. Nineteen chapters, two and a half hours.
Sandvox Websites of the Month
This is the latest in our newsletter's monthly feature that spotlights a few Sandvox-created websites that we think show off the application's features well. We hope these examples will provide some inspiration for your own Sandvox site!
If you would like to have your website considered for our Websites of the Month spotlight, just choose "Submit to Site Directory..." from the Site menu in Sandvox, and fill out the details about your site (or sites). Doing so will get your website listed on SandvoxSites.com, and we may choose to feature your site in a future mailing of our newsletter.