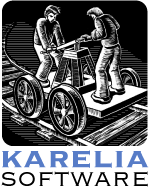 In this issue: Sites of the Month ❧ November Free Sandvox Promo ❧ New Sandvox Design ❧ Coupon Codes
Greetings from Karelia Software!
New: Sandvox Websites of the Month
We're launching a new monthly feature for our newsletter, featuring a few Sandvox-created websites that we think show off the application's features well. We hope these examples will give you some inspiration for your site!
This month, we're shining the spotlight on a UK theatre group, an alpaca breeder in New Zealand, and a US-based website for students deciding on their career.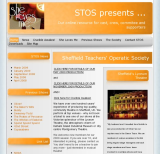 Keith Arrowsmith used Sandvox to build a website for the Sheffield Teachers Operatic Society. "STOS Presents" makes use of a number of Sandvox features — a contact form, collections, a wide variety of pagelets such as collection indexes, amazon.co.uk lists, list of links, and raw HTML. We think you'll agree that the warm colors of the built-in "This Modern Life" design make this an appealing site.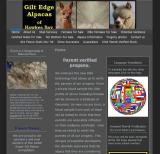 "Gilt Edge Alpacas" is a website built by New Zealand-based Alpaca breeder Sarah Busby. It's a gorgeous site filled with information about Alpacas, animals for sale, stud services, lists of awards, and so forth. The "Smooth Dark" design makes a great background for the sites' many photos — check out this album for example.
The website is actually available in four languages — English, French, German, and Italian. (See how to do this here.)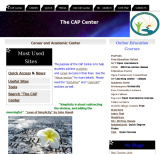 "The CAP Center" is a website built by Thomas Wilson of Virginia Beach, Virginia, to help students achieve academic and career success in their lives. It uses the "Stars" design and takes advantage of Sandvox's custom banner and logo capabilities. It's a fairly large site (as the site map page will demonstrate) containing mostly text pages filled with resources for students, to help them with their school work.
Congratulations to this month's featured websites!
If you would like to have your website considered for Sandvox Website of the Month, just choose "Submit to Site Directory..." from the Site menu in Sandvox, and fill out the details about your site (or sites). Doing so will get your website listed on SandvoxSites.com, and we may pick your site in a future mailing.
November Promo Ends Soon
The promotion we announced in late October has been a big success. We've teamed up with a couple of our partner web hosts to offer a license to Sandvox Pro for free when a year's hosting is purchased through the links on our hosting comparison chart.
There are only a few days left in November to take advantage of this. Don't forget about the hosting discounts available as well when you use the coupon code FREESANDVOX with the partner host.
Full details are available here.
New Sandvox Design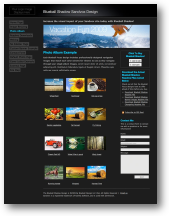 Each month, we try to feature some of the newest Sandvox designs produced by our lively community of third-party designers.
Blueball Design, the most prolific of the Sandvox design providers, has not disappointed with this month's "Blueball Shadow" design. This is their first foray into a "dark" design — with vibrant highlight colors to choose from: blue, red, brown, gray, green, orange, orchid, and gold.
This wide design has three columns, the leftmost dedicated to a site menu that, since it grows down rather than across, has unlimited capacity!
Do you want to promote Sandvox?
We often get inquiries from people who are planning on talking about Sandvox at an upcoming Mac User Group meeting or some other event, and would like to see if we could make a coupon code available for attendees. We're always happy to oblige. We thought we would make this offer to anybody else who is interested.
Are you a member of a Mac User Group or professional organization, or do you participate on online forums where people might be interested in Sandvox?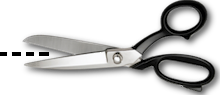 We can set you up with a special coupon code (good for a few weeks after issuing it) that will give anybody using it a 25% discount off of a license to Sandvox.
If you would like to help get the word out about Sandvox (and be a hero for helping people get a special deal), just reply to this email (or drop us a line any time — this is an open offer) and tell us about the context in which you are planning to tell people about a discount code. We will generate a special coupon code (usually related to the name of the group) and reply to you within a couple of days.
We can also send you a packet of promotional postcards for Sandvox to take to your gathering. Just include your mailing address and a count of how many you'd like.
Happy Thanksgiving
That's a message to our friends in the U.S. — if you're not, we hope you'll accept the good cheer in any case!
---
See you in the Sandvox!