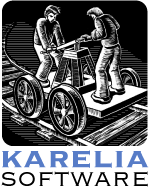 Greetings from Karelia Software!
Update Alert: Sandvox 1.6 Now Available
We're pleased to announce the availability of Sandvox 1.6. Although we've been releasing minor updates to the 1.5 line of Sandvox, we have been working on this new 1.6 version for several months now. So we are very happy to finally make this new version available!
The full list of changes can be found in the release notes, but here are the main new features: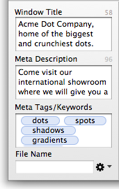 More Search Engine Friendliness: In our email newsletter last month, we provided a number of tips about getting your website noticed. (If you missed it, you can read it online.) A new feature in Sandvox 1.6 will help further that goal: We now provide a way to customize your site's window title and meta description on a page-by-page basis. Why is that important to getting your website noticed? Well, think of this feature as your "Free Google Advertisement." It should be a headline and a brief, compelling description to entice people to come visit your website from where it appears in Google's search results page. And in this title and description, you can include words or phrases that people are likely to be searching for, greatly improving the chances that somebody will find your site.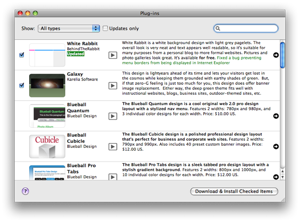 Plugin Discovery: Last month, we launched the Sandvox Designs website, a catalog of designs for Sandvox available from third party companies and from Karelia. We are now making this information available from within Sandvox itself with our "Discover Plug-ins" window available from the Sandvox menu. Open this window to view a list of third-party plugins (mostly designs, but also new page/pagelet types) available either for purchase or direct installation. Learn more about this handy feature.
Check out the Sandvox Plug-ins window and browse commercial offerings available from Jumsoft, SWD, and Blueball. You can also download and install two new free designs from our newest design partner, BehindTheRabbit, "Old Ink" and "White Rabbit," as well as a new extra design that we've created, "Galaxy."

Multiple Comment System Support: New in 1.6 is support for two popular blog commenting systems: Disqus and IntenseDebate. Along with JS-Kit (and legacy support for Haloscan, acquired by JS-Kit), Sandvox now offers many ways to let your visitors interact with your blog. If you are setting up comments, be sure to visit each of the providers to make your choice because they each have different advantages.
Directory Submission: Version 1.6 now includes a "Submit to Site Directory..." item in the Site menu to submit your published website to our upcoming directory of Sandvox-created sites. (This is the website we mentioned in our mailing last month that is available to licensed Sandvox users.) You can also submit your site directly from the Web: go to our "Look Up Your Lost Registration Code" page if you are a registered Sandvox user to have your URL emailed to you.
See you in the Sandvox!