Greetings from Karelia Software!
Big Sale for April: $20 off Sandvox Pro
In a couple of days, we'll be announcing a sale on Sandvox Pro for the entire month of April. For members of this list, we are opening the doors early!
Through the entire month of April, we're offering Sandvox Pro at a big discount. While our standard edition remains at US $57, we are offering Sandvox Pro at a $20 discount, that means it's only $77 instead of the usual $97. No coupon code is necessary; the discount shows up automatically on our Online Store. (This offer expires April 30, 2011, and cannot be combined with other discounts.)
Sandvox 2: Getting Close!
We've been burning the midnight oil for the last month or two, getting Sandvox 2 ready for release. Would it be immodest to say that we think it is really ROCKING? A few beta testers have been trying it out, and their reaction has been quite favorable — so we're very proud of what we've accomplished, and can't wait for it to be ready for release in just a few weeks!
(We'll be opening up beta testing to a wider audience in a week or two; be sure to subscribe to our Yahoo group if you are interested in the betas.)
Sandvox 2 Feature Poll — Results
In a previous newsletter we conducted a poll, asking our subscribers what feature of Sandvox 2 held the most appeal.
The envelope, please?
And the winner is More flexible content placement.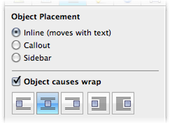 Sandvox's ability to manipulate images and other objects on the page has been vastly improved. Either by using the Inspector, or just by grabbing it and dragging it, any object can be nicely aligned on the page: left, right, or center. What's more, objects can now be directly resized right on the page. The whole process with Sandvox 2 is much more intuitive, and we know you're going to love it!
Of course, this is just one of many, many new aspects of Sandvox 2. Read below for how to find out more!
Finding Out More
We gave out a little teaser about Sandvox 2 in last month's newsletter, and we hope this issue has given you a bit more insight. But more information will be on the way, just to whet your appetite.
We're planning on posting a few more tidbits about what to expect in Sandvox 2 on our Facebook, Twitter, and blog pages over the month of April. So be sure to like/follow/subscribe to those so you'll know what's coming!
In This Issue
Big April Sale
Sandvox 2 Status
Poll Results
Finding Out More
Application Downloads
Other Downloads
(Only for our newsletter subscribers)

"77 Ways to Get Traffic" eBook
Sandvox Design Providers
Get the latest updates from all design providers
Sandvox Sites Directory
Examples of Sandvox-Built Websites contributed by people like you
On the Social Networks

Twitter: Follow @karelia
Useful tidbits posted frequently!

Facebook:
Become a fan of Karelia and join Sandvox group
Facebook-exclusive Sandvox discount!

Yahoo Groups:
Join our Sandvox Group
Connect with other Sandvoxers!