Greetings from Karelia Software!
Training: Last chance for introductory price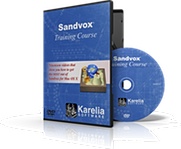 We sold a lot of copies of our Sandvox training (both the DVD and the online-only versions) when we launched it early this month. We had promised a special discounted introductory price through May 24 — yesterday — but we extended this special price for another day so you, as a member of this mailing list, would have one more chance to get this before it changes to its regular price.
Some reactions we've gotten about the training (more on the training home page):
Professionally scripted and professionally presented ... really what I needed to get the full potential that Sandvox has to offer ... I wasn't sure I really needed the training as I've used the program for a couple of years. Overall the sessions are very good ... Happily, the training videos have come along to flesh out the depth of the program just as the need for a more robust web site has presented itself ... I would recommend the training to anyone who is new to Sandvox ... The narrator moving the mouse around and clicking on things went at a speed that I could follow ...
The introductory price (saving you $10) will expire at the end of today, so don't delay!
Special offer on Apps from Apparent Software
We have teamed up with our friends at Apparent Software to offer you a 35% discount on their three applications.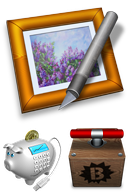 Sandvox users may be especially interested in ImageFramer, a utility that lets you frame images with beautiful photo-realistic and artistic frames. You could spruce up your Sandvox website, for instance, by first running your images through ImageFramer before dragging into Sandvox.
Or check out their other apps:
Cashculator is the Mac way to track cash flow. It uses familiar spreadsheet concepts and helps you reach their financial goals by forecasting your financial situation.
Blast keeps your files at your fingertips. It keeps track of the files you've been using on your computer and lets you access them quickly and easily from your menu bar.
All of these have trial versions which you can download. Use the coupon code KAREL35 when purchasing any of these applications. The offer is valid until end of June 2010.
New Sandvox Design: Lake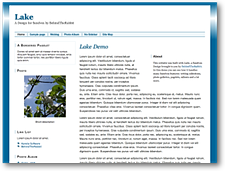 BehindTheRabbit recently released Lake, a wide design with a tranquil blue highlight that reminds us of sunlight reflecting off of a deep lake. It is particularly suitable for websites that need rich text pages and blogs entries: its typography, colors, whitespace greatly improve the readability of text.
Several other designs (especially from BehindTheRabbit and Blueball Design) have been recently updated, so be sure you have the latest versions installed. Go to http://www.karelia.com/sandvox/designs/ or from the Sandvox menu, choose "Discover Plug-ins..." to see the latest.
In This Issue
Last Chance for Introductory Price on Training
Special offer from Apparent Software
New Sandvox Designs
Sandvox Websites of the Month
Application Downloads
Other Downloads
(Only for our newsletter subscribers)

"77 Ways to Get Traffic" eBook
Sandvox Design Providers
Get the latest updates from all design providers
Sandvox Sites Directory
Examples of Sandvox-Built Websites contributed by people like you
On the Social Networks

Twitter: Follow @karelia
Useful tidbits posted daily!

Facebook:
Become a fan of Karelia and join Sandvox group
Facebook-exclusive Sandvox discount!

Yahoo Groups:
Join our Sandvox Group
Connect with other Sandvoxers!
Sandvox Websites of the Month
This is the latest in our new monthly feature for our newsletter, spotlighting a few Sandvox-created websites that we think show off the application's features well. We hope these examples will give you some inspiration for your own Sandvox site!
If you would like to have your website considered for our Websites of the Month spotlight, just choose "Submit to Site Directory..." from the Site menu in Sandvox, and fill out the details about your site (or sites). Doing so will get your website listed on SandvoxSites.com, and we may choose to feature your site in a future mailing of our newsletter.
Stephen Zilber chose Sandvox Pro to build a website for Whole Health Associates, a health and wellness practice in San Rafael, California, where he is a licensed acupuncturist. Using the Pacific Sky design, Stephen put together an informative and well-balanced site using many of the standard, easy-to-use features of Sandvox, such as Download Pages, a Contact Form, and an External "Page within a Page" to bring in a Google map to the practice. It's an attractive and sophisticated site done without requiring advanced customization.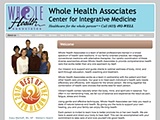 Richard Kingston at the University of Auckland used Sandvox Pro to set up Kingston Lab, a website that presents the lab's biophysical research into virus architecture, assembly, and replication. Richard picked Blueball Design's Smooth design to organize and highlight the lab's research and publications. Simple and straightforward, everything you need to know to visit the lab and learn about its research is there.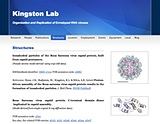 Michelle Villalobos, of Miami, Florida, used Sandvox Pro to build an on-line presence for her international marketing consultancy and expand her growing network. Michelle chose the simple and elegant "Clean Sheets" design to keep focus on the tons of unique marketing, sales, and networking content that she created and gives away for free on her site. She used the power of Code Injection and Raw HTML to set up her site as a networking hub, with multiple ways to get and stay in touch with her. The results speak for themselves. Michelle tells us: "My website represents me so well that people have called me asking for me to create websites for them!"