Greetings from Karelia Software!
Sandvox 1.6.6 is available

We are pleased to announce the immediate availability of Sandvox 1.6.6.
This update solves several issues that people have reported over the last couple of months since version 1.6.5 was released.
We've made a minor change that will also help with making your pages more visible to search engines — something we take very seriously. When using 1.6.6, all newly-created web pages will have their default file names use dashes, not underscores, for separating words. (e.g. "hello-there.html" instead of "hello_there.html".) Your already-published web pages will not be affected by this change.
You can view the full set of release notes here.

Download Sandvox 1.6.6 Now.
Indie Relief: January 20

You've no doubt heard about the devastation from last week's earthquake in Haiti. Well, our fellow "indie" developer, Justin Williams of Second Gear Software, decided to do something to help. He has rounded up over 125 developers, with over 200 Mac and iPhone applications, who will be donating all of their proceeds from sales made tomorrow, January 20 to organizations working to help those in need.
The participating companies and their applications are listed on the Indie+Relief website.
Naturally, Karelia Software is one of them. We will be donating all our proceeds from sales made on Wednesday, January 20, to Doctors Without Borders (Médecins Sans Frontières).
We hope you will visit Indie+Relief and pick up some spectacular software for yourself (or as a gift to your fellow Mac users) while doing good.
Spotlight on MemoryMiner
From time to time, we like to highlight other Mac software titles that we think you may like.
This time around, we are shining the spotlight on MemoryMiner, a unique application from a fellow indie developer. Since many Sandvox users publish websites about people and places, we thought that MemoryMiner is definitely worth a look.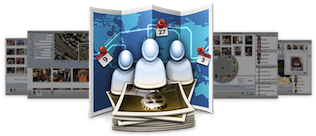 If you have a big collection of photos of your family and friends, you may find this to be a great complement to iPhoto — and to Sandvox. MemoryMiner lets you zero in on the stories depicted in your photos by linking them to each other based on people, places and time. MemoryMiner publishes to the web either to Flickr, or to a gorgeous web viewer which can be linked into any Sandvox-produced website. Here's an example.
The best way to understand MemoryMiner is to watch the demo video on the home page for MemoryMiner 2.0. It's also a chance to see pictures of MemoryMiner's author, John Fox, being tormented by his older brother when he was a child!
John has set up a special discount for friends of Karelia. Go here to grab a 20% discount off of the regular price — making it $32 instead of $40 for a license. (This page will also have a screencast for Sandvoxers later today.)
In This Issue
Sandvox 1.6.6
Indie+Relief
MemoryMiner
Sandvox Websites of the Month
Application Downloads
Other Downloads
(Only for our newsletter subscribers)

"77 Ways to Get Traffic" eBook
On the Social Networks

Twitter: Follow @karelia
Useful tidbits posted daily!

Facebook:
Become a fan of Karelia and join Sandvox group
Facebook-exclusive Sandvox discount!

Yahoo Groups:
Join our Sandvox Group
Connect with other Sandvoxers!
Sandvox Design Providers
Get the latest updates from all design providers
Sandvox Sites Directory
Examples of Sandvox-Built Websites contributed by people like you