Greetings from Karelia Software!
Sandvox 1.6.8 Update Available

We are pleased to announce the immediate availability of a new version, 1.6.8, of Sandvox. This is a minor update release, but important for all Sandvox users. It fixes a number of issues that we have discovered since the previous version; it also catches up with some server-side changes on the part of Apple and Amazon . com that affect existing Sandvox-built websites. (Please read the details below.)
Download Sandvox 1.6.8 from this message — or you can just choose "Check for Updates" from the "Sandvox" menu in the application itself.
Server-side Changes Affecting Sandvox Websites
If you have been using the Amazon List feature of Sandvox to display a Wish-List or Wedding Registry, we are sorry to report that Amazon . com is no longer supporting the display of these items on your list. You will need to rebuild your list by adding individual products. We are very sorry for the inconvenience — apparently Amazon . com felt that it was not cost-effective to provide that service to website owners.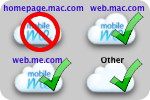 If you have been publishing to MobileMe/.Mac for a long time using Sandvox, you have hopefully heeded the emails from Apple warning you that they were discontinuing online access to their legacy "homepage.mac.com" websites on November 8. (Note that this warning only applies to websites that start with "http://homepage.mac.com" and no others!)
We have been encouraging Sandvoxers to instead use "web . mac . com" or "web . me . com" for a while now, so hopefully you are not affected by this change. Just in case you haven't yet migrated your website to web . mac . com or web . me . com (or another domain entirely, such as one hosted by one of our hosting partners), now would be a good time to run your website through our Host Setup Assistant and re-publish it at a supported address.
MacGraPhoto Bundle Features Sandvox

We are pleased to make Sandvox (regular edition) part of the MacGraPhoto bundle, "Nine Great Graphics Applications For the Price of One." Along with Sandvox, check out other amazing apps such as Posterino, Hydra, ImageFramer, Layers. These are some great tools to build and manipulate images prior to bringing them into Sandvox.
The MacGraPhoto bundle will close in about two weeks, early November 30. Check it out!

New "Gravitas" Design
and 50% Off Sale from Blueball Design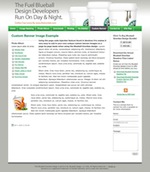 Every month, our community of third-party Sandvox designers comes out with one or more new designs to tempt us all into giving our websites a fresh new look. This month is no exception — Blueball Design has released "Gravitas," the design they use on their own website. This wide design comes in five delicious-looking flavors, and costs US $12.00 for the package. Read more about Gravitas.
Even better, for 72 hours, Blueball is making all of their individual designs (including Gravitas) available at a 50% discount. The sale, which has just started, runs through Thursday November 18 at 11:59 PM, U.S. Eastern Standard Time. Use the coupon code "blueballsandvox50sale" when you check out from Blueball Design.

In This Issue
Sandvox Update
MacGraPhoto Bundle
New Design & Sale
Websites of the Month
Application Downloads
Other Downloads
(Only for our newsletter subscribers)

"77 Ways to Get Traffic" eBook
Sandvox Design Providers
Get the latest updates from all design providers
Sandvox Sites Directory
Examples of Sandvox-Built Websites contributed by people like you
On the Social Networks

Twitter: Follow @karelia
Useful tidbits posted frequently!

Facebook:
Become a fan of Karelia and join Sandvox group
Facebook-exclusive Sandvox discount!

Yahoo Groups:
Join our Sandvox Group
Connect with other Sandvoxers!
Sandvox Video Training
A step-by-step screencast tutorial. Nineteen chapters, two and a half hours.
Sandvox Websites of the Month
This is the latest in our newsletter's monthly feature that spotlights a few Sandvox-created websites that we think show off the application's features well. We hope these examples will provide some inspiration for your own Sandvox site!
If you would like to have your website considered for our Websites of the Month spotlight, just choose "Submit to Site Directory..." from the Site menu in Sandvox, and fill out the details about your site (or sites). Doing so will get your website listed on SandvoxSites.com, and we may choose to feature your site in a future mailing of our newsletter.
For a great primer on a well-written website, visit write-on.biz from Shari Tresky. The Sandvox design Ms. Tresky chose, "This Modern Life" quickly and succinctly conveys the writing services she offers. Its professional look informs the site visitor that she is a capable wordsmith and that she has the ability to produce a quality product.
She has perfectly laid out her main areas of concentration, without an overwhelming level of content that can quickly return people to the search engines. Shari has written three short paragraphs with three sentences each as a hook for the reader. Her interior pages are more substantial and go into detail about the each of the specific areas of concentration. Still, she effectively uses bullet lists, short paragraphs and of course, her exceptional writing skills to develop interest in her content and confidence in her abilities. She clearly knows her craft.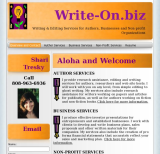 Want to see some really amazing photos of a little-known culture? We're talking National Geographic quality photography. Check out George Simian's Ubut, Bali Photography Workshop website. Mr. Simian conducts a workshop for photographers on this Indonesian island each summer and the results are breathtaking.
The dark background of the customized Blueball Cubicle design is critical to framing the photos and enhancing the effect. Naturally it is helpful that the photographs themselves are of professional quality and utilize good equipment.
He has displayed a number of thumbnail photos on each of the two interior pages, so the site visitor can easily scan them all. Clicking on a thumbnail takes you to a larger view of that image, with scroll controls that step you through these magnificent images. Be careful though: You just might find yourself heading for Orbitz to book a flight!