Greetings from Karelia Software!
Sandvox 2.2 Released

This morning, we released version 2.2 of Sandvox. It's available for immediate download or via the Mac App Store.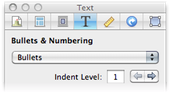 One of the features we've added in 2.2 is a new Text inspector. This allows for bulleted or numbered lists. There are also a number of other text editing improvements, including strikethrough formatting and both left-to-right and right-to-left writing directions.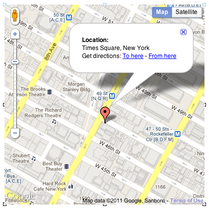 Sandvox 2.2 also features a new Map object. Now you can place an interactive map, powered by Google, right on your website to help web visitors find you in the physical world. The Object inspector offers several options to customize the map for your needs.
We've continued to improve publishing with each new update to Sandvox, and version 2.2 is no exception. This latest update improves compatibility with a number of SFTP servers, and solves some issues with WebDAV and MobileMe publishing.
There are a number of document management improvements, enhancements to editing raw HTML, and other fixes.
We're sure you'll love the new 2.2 version! Download it now.
Sandvox's Launch on Mac App Store a Huge Success
It was just two weeks ago that we announced the availability of Sandvox on the Mac App Store, and to say that it was a success would be an understatement!

Due to some dynamite placement on the App Store (Thanks Apple!), including a giant banner visible upon launching the store all over the world, Sandvox was one of the top-grossing applications.
We have a lot of new Sandvoxers now, thanks to the Mac App Store. If you are one of them, welcome!

Mac App Store purchasers, would you mind going to Sandvox's App Store page, dragging across next to "Rate this application" to give Sandvox some stars, and maybe writing a brief review? (Click "Write a review".) Thanks!
In This Issue
Sandvox 2.2
Mac App Store Launch
Websites of the Month
Application Downloads
Other Downloads
(Only for our newsletter subscribers)


"77 Ways to Get Traffic" eBook
Sandvox Sites Directory
Examples of Sandvox-Built Websites contributed by people like you
On Social Networks

Twitter: Follow @karelia

Facebook:
Become a fan of Karelia and join our Sandvox group