Greetings from Karelia Software!
iMedia Browser Update Now Available

We are pleased to announce the release of version 1.2.3 of our free iMedia Browser, a stand-alone utility that gives you fast access to your photo, video, music, and bookmarks libraries.
This is a minor update, with the main feature being support for Aperture 3. We've fixed a few other issues, especially with how the application handles updating itself if you choose to access the iMedia window via a small icon in the menu bar rather than the dock.
This will probably be the last update to iMedia 1.x. But don't be sad — we are very close to releasing a completely new iMedia Browser, that will be tons faster and browse some interesting new sources of media. It will be freeware as well, and we'll be sure to let you know when it's ready.
Metadata Explained
Many people with websites are completely unaware of the value of website meta information. It just sounds so blasted technical, doesn't it? But, if you take a few moments to learn how it can greatly influence the number of "hits" to your website, you'll be glad you overcame that hurdle.
What exactly is meta information? These are elements within the construct of every web page that allow search engines to correctly categorize each page. Who cares? You do. Fortunately, Sandvox's Page Details editor makes it easy for you to take advantage of these elements.
The window title is simply the title of the page as it appears at the top of your browser window. More importantly, it is the top line you will see for each result when you search for a specific key phrase within a search engine. Each search engine displays it underlined and in blue.
What should you put into your window title? Google only allows 65 characters before the title is truncated with ellipses (…). Testing has conclusively demonstrated that we are less likely to click on search engine results with ellipses. So ideally get as close as you can to the magic number without exceeding it. Those 65 characters are valuable real estate. Take a look at the following examples:

Which would you likely click on? If you are like most people, you would select the one that offers a compelling reason to click, even if it is lower on the results page.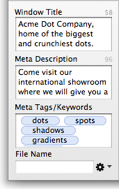 That brings us to the meta description. It defines the two lines beneath the title on each search engine page. It is in black type and runs to about 150 characters. Here you have a valuable opportunity to present an incentive to click — an attractive price, awards you have won, or whatever else would convert the site searcher into a site visitor. Not only will Sandvox allow you to freely alter those inputs, it also has a character-counter to let you know when you have exceeded the limit for each. By the way, you will want the title and description to be unique for every page.
Like the title, any search terms used to find the page will be presented in bold-faced type. Do you think those search terms are an important component of window titles and meta descriptions? Absolutely. While it is possible to rank highly without using them in either the title or description tags, you definitely get positive points for incorporating the terms in each. Just remember, use the term only once, no more.
Another misunderstanding occurs with keyword meta tag. This is not to be confused with the keywords or search phrases people use to initiate a search on an engine. Google no longer even indexes the meta keyword tag. While the keywords can sometimes be useful for other purposes, don't worry about them for search engine optimization.
Read about Sandvox's "Page Details" editor, where you can enter metadata for your page.
New Sandvox Design: Sugar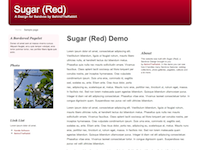 Those of you looking for a new, content rich design will love Behind The Rabbit's newest creation. "Sugar" does a wonderful job of recreating the company's own successful site, offering it in four colors: red, green, blue, and orange.
Some designs are more conducive to blogging than others. Sugar makes it easy and effective. Whether you want text, a photo, a YouTube video, or any combination, it's a snap with this clean and elegant design.
The white background, rounded corners and shadowed photo boxes lend a subtle air of professionalism. There are 8 options for the header, and you can easily personalize them with your own graphics. Of course, your custom logo is supported, too.
Sugar is bright, crisp and will certainly enhance your message. Price: $9.00. Check it out!
In This Issue
iMedia Browser Update
Metadata Explained
New Sandvox Designs
Websites of the Month
Application Downloads
Other Downloads
(Only for our newsletter subscribers)

"77 Ways to Get Traffic" eBook
Sandvox Design Providers
Get the latest updates from all design providers
Sandvox Sites Directory
Examples of Sandvox-Built Websites contributed by people like you
On the Social Networks

Twitter: Follow @karelia
Useful tidbits posted frequently!

Facebook:
Become a fan of Karelia and join Sandvox group
Facebook-exclusive Sandvox discount!

Yahoo Groups:
Join our Sandvox Group
Connect with other Sandvoxers!
Sandvox Video Training
A step-by-step screencast tutorial. Nineteen chapters, two and a half hours.