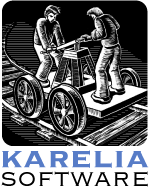 In this issue: Sandvox 1.6.5 ❧ iMedia ❧ November Free Sandvox Promo ❧ Custom Sandvox Banners ❧ New Designs
Greetings from Karelia Software!
Sandvox 1.6.5 Now Available
This is a minor update to Sandvox that solves a few uploading issues that appeared in 1.6.4, an issue with the iMedia Browser that only affects Snow Leopard users, and a few other issues. You will be notified automatically within Sandvox of the new version for instant download, or you can download Sandvox 1.6.5 directly here.
iMedia Browser Update Coming Very Soon
Our freeware iMedia Browser is getting refreshed, in about a week. This new version fixes some of the same issues that are being updated in the new Sandvox, and also adds a Brazilian Portuguese localization.
To get the updated version, just launch the current version early next month and you should be automatically notified. You can also manually update the software by choosing "Check for Updates..." in the iMedia Browser application menu.
Or, you can always download the latest version from the iMedia home page.
November Promo Gets You Sandvox for Free
We've teamed up with a couple of our recommended website hosts for the entire month of November and will be giving away a free single-user license to Sandvox Pro with proof of a new one-year hosting signup from either A2 Hosting or Server Logistics if purchased through the links on our hosting comparison chart.
Here's how this special, one-month promo works: You decide which plan you want, from either Server Logistics or A2 Hosting, and sign up for a year (or more) of hosting using the online form our comparison chart links to. Then, just forward the hosting company's "welcome" email to ________. As soon as we receive your email and verify the purchase, we'll send you a gift certificate code for a FREE single-user license to Sandvox Pro.
This promotion starts now, and is effective throughout the entire month of November.
Hosting Discounts, Too!
To sweeten the deal, you can use the coupon code FREESANDVOX when you check out at the Server Logistics website for 15 percent off, or from A2 Hosting for 25 percent off, of your hosting purchase! (Yes, you can use this coupon code even if you already have Sandvox and just want to switch hosts.)
With the discount coupon code applied, you can easily get a full year of hosting, plus Sandvox, for less than the normal price for Sandvox itself!
Start here for free Sandvox license with hosting purchase.
Important Notice: See offer page for further details. Offer applies only to new hosting signups and new or upgraded licenses to Sandvox. This offer is effective beginning midnight (Pacific) on October 28, 2009 until 11:59pm (Pacific) on November 30, 2009.
Custom Banner Design Service

If you are building a website that needs a custom banner, but you don't have the skills to create the image you want, you may be interested in the service that Sandvoxer Karen Kaufman has just launched. The service, "Custom Headers by M" allows you to specify the Sandvox design you are using, the colors you want, and what kind of image you want. Check out the gallery of customizable designs, or commission your own. Prices start at just $10.
New Sandvox Designs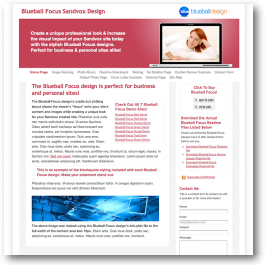 Each month, we try to feature some of the newest Sandvox designs produced by our lively community of third-party designers.
Blueball Design has created yet another elegant layout with their new "Blueball Focus" design. This is a mostly-white design with a splash of bold color in the banner area.
Blueball has also released special bundles of their designs. Check out Volume 1 and Volume 2.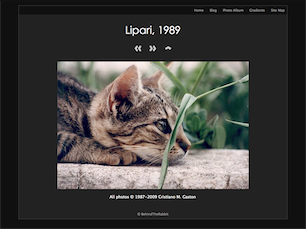 Or if you're looking for a dark look for your website, check out "Grafite" from BehindTheRabbit. This design makes wonderful use of subtle gradients to make an appealing background for color photos.
Sandvox Is On Facebook

Are you a Facebook user? Come by the Sandvox Facebook page! The group has been growing lately (along with Facebook itself) so please join us.
---
See you in the Sandvox!