I had read recently that it's a good idea to connect with people on Facebook. We've been using Twitter a lot (come follow @karelia!) but wanted to get more of a presence on Facebook as well.
I set up a facebook page for Karelia Software (If you are reading this please stop by and become a fan and write something on our wall!) and started looking around for ideas on what to put there. I've found a few Mac software companies, and some other organizations, with some interesting content, plus a bunch of ideas for making an effective Facebook page.
Why do all this?
Having a Facebook page for your company is a good way to connect with people who are interested in you. Yes, you should have a mailing list, and use Twitter, and hopefully an online forum or discussion email list. Facebook is just another channel. There are ton of people who are on Facebook constantly, so why not connect with them too?
When you make some update to your facebook page, your "fans" get notified of the update. So it's a good way to be noticed by your fans.
Even if you don't (yet) have a lot of fans, your Facebook page can contain useful content that can get picked up by search engines.
You can also link to specific tabs. Notice the "?v=...." parameter in the URL. When you reach a certain threshold (perhaps just a few dozen; I was able to set it when the page had 36 fans) you can get a "vanity" URL that is simpler than the unmemorable URL that you initially get when you build your page.  Go to facebook.com/username to set this.
Some Examples
Backblaze has a couple of photo collections — of their mascot, and of various product shots. That's a nice idea, in case somebody wants a logo to put on their blog. I notice that they also have their latest twitter status showing up at the very top of their main Facebook page. They also have some promotional videos; it might benefit them to have some how-to screencasts as well.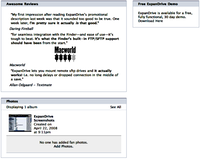 ExpanDrive has a clever idea — a coupon code that is visible only to people who have become a fan.  On their online store they link to their facebook page, saying "Become a fan of ExpanDrive on Facebook and get a $1 off coupon." That's a clever way to get new fans, because even though the discount is only $1, it's fun to save money for just a couple of clicks. You can implement something like this by making a Static FBML page, putting the code in a <fb:visible-to-connection> tag. (We've since set something like this up on our own page.) They also have a "boxes" tab (you can put content into this tab from "Application Settings") that holds reviews and other tidbits (pictured here). Finally, they have a very active wall. This is a company that is getting good use out of their Facebook page.
SRS Labs has an active Facebook presence. A very detailed "info" tab, a nice Product Spotlight, a link to their blog, active discussions, and several reviews and press releases under the "Notes" tab.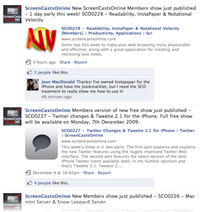 ScreenCasts Online has a very active "Links" tab (pictured).  Their discussion tab has only one topic, with quite a bit of content, on "What to do with the ScreenCastsOnline FaceBook page?"
Some other Mac-related Facebook pages I found include Pariahware, MacHeist, Mac.AppStorm, and Apago.
Extending Your Page
Look around on the list of applications to add new tabs to your page. There are applications for RSS feeds, SlideShare, testimonials, running promotions, signup forms, LinkedIn profile, and more. There is also a lot of "junk" so it may take some time to find useful extensions. (If you find some useful applications please let us know in the comments!) Overall, though, I think that the Static FBML application is the most useful; here are some useful guidelines and hints to help you figure out things like adding more than one FBML tab to your page.

Conclusion
It takes a while to figure out how to configure and edit a Facebook page, even for a technical type like me! Be sure to explore all of the options that you can find, and search Google if you are stuck!
Further Reading
How To Develop A Facebook Page That Attracts Millions of Fans

Facebook Fan Page Best Practices

Facebook Pages (from Facebook)
5 Elements of a Successful Facebook Fan Page