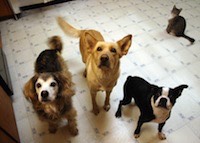 I got an email this morning from a developer of a Mac application. I quote it here, though I have replaced the names and URLs to protect the guilty.
Dear Sir,

We have gone through your website([URL OF MY PERSONAL BLOG]) and found good postings on your website, just wanted to appreciate you on a well presented, and informative web site related to different products posted on your page. We want our Macintosh product (XXXXXXXXXXXXXXXXXXXXX) to be reviewed and posted on your webpage.

Information about the product can be found at: http://www.XXXXXXXXXX.com/

Our product review would provide good quality content to your blog and it will also help us.

If you are interested to review our product we can provide you full version of our software and license key as well.

We hope an early and positive response to your site. If you have any queries then please feel free to mail us

Thanks for your time and consideration
Emailing relevant websites and offering your product for them to review is actually not a bad idea.  In fact, I was just reading a book last night that suggested doing just that as a way to build up support and exposure for your product and your website.
But the way this developer went about it was embarrassing, mostly because of the poor grammar and the impersonal nature of the email. I am guessing that this task was outsourced to somebody whose English skills are a bit lacking. (This issue could have been solved by having a better writer create or at least proofread the email.) But even more importantly, it would have been a lot better to take the time to engage personally with me as a website owner. Why would my website be a good fit for reviewing your product? What was it about my website that caught your eye? What is my name? (Hint: It isn't "sir.") There are plenty of ways to be polite without being impersonal.
This product will not be getting a review on my website. Sorry.
A related suggestion that I was reading last night is worth considering, though you want to be careful how you approach this. If you have an affiliate program for your product, in which others who promote your product would get a commission for each sale, you could offer to bloggers or companies that if they send people your way, you will give them a commission. 
This is certainly an interesting idea. It would be an incentive to the blogger or company to take a good look at your product and possibly promote it to hundreds or thousands of website viewers or mailing list members.
But by introducing the possibility of compensation for their "review" (not just getting a free license to the software, but actual cash), it puts the reviewer in a more delicate situation. If she is trying to run a magazine with truly impartial reviews, then this kind of relationship is certainly not going to be appropriate, so you might not want to insult her by proposing an affiliate program. On the other hand, there are many bloggers, consultants, marketers, and other businesspeople who rely on these kinds of commissions to make their living! In these cases it would be a good match. So you would have to be a careful judge of whether or not an affiliate relationship is appropriate.
Naturally, it's good ethics, and as of December 1 2009 it's the law, that compensated endorsement is disclosed. Read here for the actual text of the law; there are plenty of websites with further analysis.
What is your take on asking for reviews?  Feel free to leave a comment….