Discover Plug-ins Window
(Not available in the Mac App Store edition of Sandvox.)
You can check for new plug-ins by choosing Discover Plug-ins… from the Sandvox menu.
A list is downloaded from the Karelia servers showing a list of plug-ins that are available for download or purchase.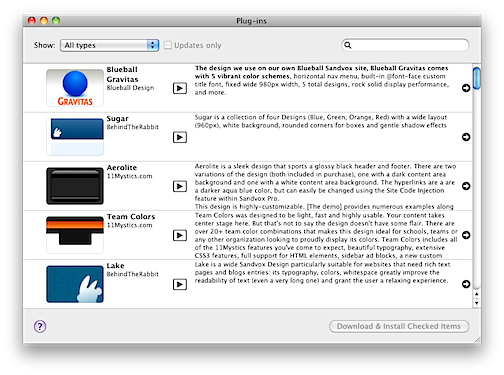 The plugin discovery window consists of three main sections:
The top area, with options to choose what to display
A list of plugins available for direct download or for purchase over the web
A button to download and install any checked items in the list. Only free plugins are available for instant download.
Plugins will appear in this list if they are available for purchase/download and are not already installed. In addition, plugins that you have installed but that have an update available will appear in the list (at the top), highlighted with green text that an update is available.
Plugins with one or more preview images available will show a ▶ button which will activate a full-screen slide show.
For additional information about a plugin, click on the right-facing arrow on the right edge of the list to view the corresponding web page in your browser.
---
Keywords: design, object, page, element, third-party, purchase, blueball, blue ball, sandvox web designs, SWD, BehindTheRabbit, Behind The Rabbit, Jumsoft, 11 Mystics