Register Your Site With Facebook
The Facebook App ID is a 15-digit number generated by Facebook that allows your site to take advantage of Facebook services included in Sandvox such as Facebook comments and the Facebook sharing objects. Registering your site with Facebook is required to obtain this ID.
To register your site:
Go to Facebook's app creation page: http://developers.facebook.com/setup/. The "Create New App" sheet should appear. If you're not logged in to Facebook, you will be asked to type in your credentials or sign up for an account.

Type your preferred app name in the "App Name" field. This name will not be used by Sandvox but is required to register your site. The App Namespace is optional. Click "Continue".

Your new app should appear at the left side of the page. If it doesn't, click on "Apps" in the top menu to refresh the page. Select your app and click "Edit Settings".

In the settings page, type your email address in the "Contact Email" field and the domain name of your Sandvox site (e.g. www.mygreatsite.com) in the "App Domains" field.
Select "Website with Facebook Login" and type your site URL (e.g. http://www.mygreatsite.com/). This should be what you type in the App Domains field plus "http://".
In "Sandbox Mode", select "Disabled".
Click "Save Changes". As Facebook will mention, you need to wait a few minutes for the App ID to be activated. About 10 minutes should do.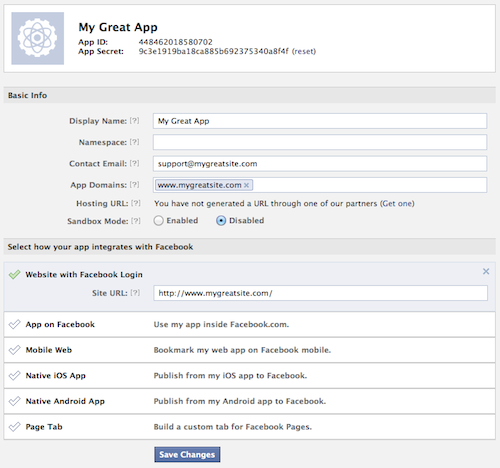 You now have a Facebook App ID! You can now use it in the Configure Sharing Services and Choose Comment Provider sheets to configure Facebook for your Sandvox site.
---
Keywords: Facebook, share, sharing, comments, app, id, social, network, like