Software updates
Sandvox features automatic software update functionality. You can choose to have Sandvox check automatically (or manually) and whether it should check for new releases only or for new releases plus beta releases by making the appropriate selections in Preferences.
Karelia recommends you set Sandvox to check automatically. If you do so, an automatic check for updates is performed every 24 hours (or when Sandvox is launched, if it's been more than 24 hours since you checked). If an update is available, a screen will appear to alert you.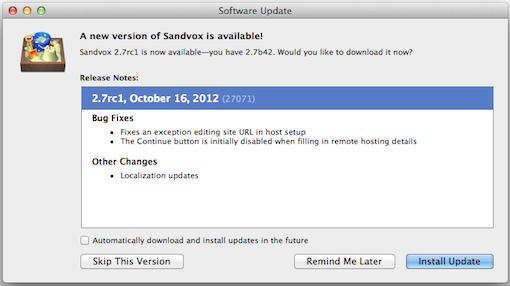 Click the "Install Update" button to download the updated version of Sandvox. If you don't have time for the installation but want to remember to do it later, click "Remind Me Later." If you really don't want the update (we can't imagine why not, but just in case!) you can click "Skip This Version." Sandvox will still update you the next time a new version is available.
---
Keywords: sparkle, software, update, updates, autoupdate, auto-update, sandvox, app, application, check, checks, recent, version, versions, date