Welcome window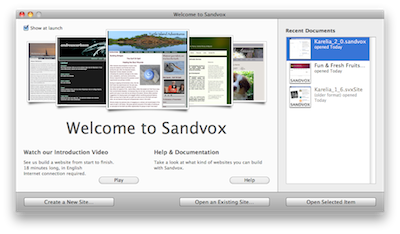 The Sandvox welcome window is a convenient window that open when you open Sandvox.
It can be used to open up the introductory video, help pages, create a new site or open an existing one...
And if there are some recently opened documents, you can quickly open recent documents from the list on the right.
Each document has a thumbnail and other useful information.

There is a checkbox to 'Show at launch' in the upper left corner, you can uncheck that option if you do not want it to show when you open Sandvox. To launch the welcome window manually, click "Welcome to Sandvox" in the Window menu.
---
Keywords: document, welcome, open