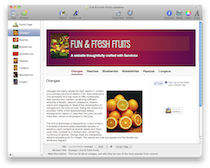 Sandvox Help
This is a mirror of the built-in help in Sandvox, plus some additional sections.
Getting Started
Discover Sandvox
How do I…?
Troubleshooting
Index
Advanced Areas
For Cocoa developers who want to add new plug-in functionality to Sandvox
For CSS web designers to extend and modify the page designs (See this page for making minor changes.)
Interested in helping translate Sandvox to a new language? Here are some guidelines.