Collection Archive
A Collection Archive generates month-by-month archives of every page in a collection. They are mostly useful for managing larger blogs.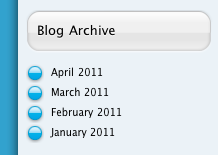 To add the Collection Archive index, select the parent page of the Collection in the Site Navigator. Then:
Go to the "Objects" menu in the toolbar, choose "Indexes", then "Collection Archive."
or:
Check the "Publish archives" box from the Collection Tab of the Page Inspector.
Settings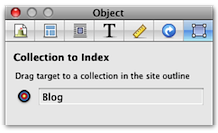 Collection Archive objects are very simple to configure. Just drag the target icon in the Object Inspector to a collection in the Site Navigator. When you first create an archive object, it will automatically be connected to an appropriate collection if possible.

---
Keywords: archive, archiving, collection, collections, object, objects, archives