Site Map
A Site Map lists all the pages of a site. This is most useful for large sites, to aid visitors in finding the page they want.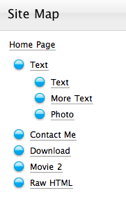 Note: Site Map objects are distinct from Google Sitemaps. This is content that is visible to your visitors (and, thus, to search engines); the Google Sitemap is a file uploaded to the server that is only for use by search engines.
Ways to add a Site Map to a site:
Site Map Options
To edit a Site Map:
Select the site maps page in the Site Navigator.
Click the site map image on the page to select it.
Open the Object Inspector. Here you can edit settings specific to the Site Map as listed below.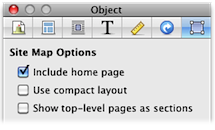 Include home page
Whether to include the Home Page in the Site Map.
Use compact layout
If space is tight, you can use this setting to compact the Site Map layout. Suitable pages are placed side-by-side in the Site Map rather than vertically like so: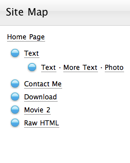 Show top-level pages as sections
Normally the main pages are displayed as "children" of the Home Page. With this setting checked, some of that hierarchy is removed like so: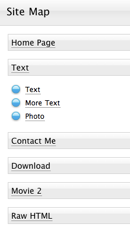 ---
Keywords: site, map, maps, sitemap, sitemaps, layout, plan, diagram, overview, list, listing, page, pages, explore, explorer, navigate, navigating, tree, trees