Accessibility
At Karelia, we have done our best to ensure that pages produced by Sandvox are accessible to the disabled. While we cannot guarantee that pages produced by Sandvox will be Section 508 compliant, that is our goal.
Navigation Links
Pages created in Sandvox use "skip navigation" links, saying something like "Site Navigation [Skip]". These links are useful for allowing screen-reader users to skip straight to the main content of a page. "Skip navigation" links are also useful for people using devices with small screens to visit your site.
When used, a "skip navigation" link takes visitors past the Site Menu and Sidebar, and straight to the page's Main content area. In addition, at the bottom of every Sandvox page is a "back to top" link.
The "skip navigation" and "back to top" links are only visible when viewing a site without styles, such as when using a screen reader or a mobile web browser. This is generally not visible from within Sandvox. (Note that since this text is part of your page, it will be indexed by Google and other search engines.)
Images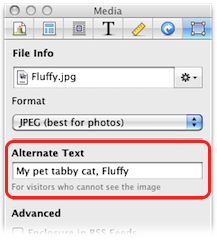 To aid accessibility, every image in a site should have a description. This description will appear in place of the image on web browsers that do not support images, or when using a screen reader.
To set an image's description:
Click the image to select it.
Open the Inspector.
Go to the Object Inspector.
Fill in the "Alternate Text" box.

Most sites also have a Logo image. You can set the description for this in the same way.
---
Keywords: skip, navigation, back, top, link, links, sidebar, site, menu, image, images, description, descriptions, access, accessability, accessibility, disable, disabled, visual, visually, impair, impaired, alt, tag, tags