Designs Fit Your Style · Latest Designs · Design Providers
With over fifty designs available, you're sure to find a design that's perfect for your unique website!
At Karelia, we understand the challenge of creating a new website, or refreshing an existing site design. That's why Sandvox helps you right from the start. With over 60 designs to choose from—many of which have multiple color variations—you'll find the one that fits the unique style of the website you're imagining. And if you decide the one you chose isn't the right design for you after all, Sandvox lets you swap design styles at any time during the website creation process.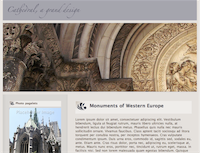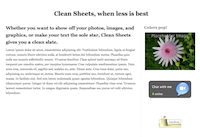 Many Sandvox designs feature customizable banners so you can substitute the image that's there for one that better reflects your business, your project, or the theme of your site. Our CSS-based designs can be modified further to create the look and feel you want. For instance, one of our most popular designs is Cathedral: Its spacious banner provides a dramatic span for the image of your choice.
If you want a more streamlined look, consider Clean Sheets, which puts the focus on your content as text and images "pop" off its bright white background. Helpful markers allow you to properly position headers, blocks of text, and images while Sandvox takes care of the rest.

Maybe you're all about color. If so, you might want to start with designs like Sunburst or Smooth Dark. Both use colors, fonts, and other elements to create a very distinctive look for your website.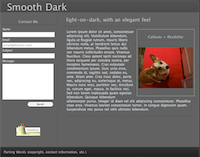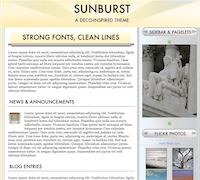 Download Sandvox for free today and see all the options for yourself!
Additional Designs Now Available
And now, even more design choices are available from several third-party designers. Check out all of the add-on designs in our Sandvox Designs section.