Some Example Business Sites
Robert Vandervenne used Sandvox to create a website for his dog walking business and his is just one of the many business websites built with Sandvox. Robert used Sandvox to add a contact form to his site so customers and potential customers could contact him without him having to give out his email address.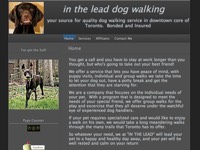 Michael Moore, a photographer and videographer based in the UK, used Sandvox to create a website for his photography and videography business. His website uses many of Sandvox's creative features to let customers and potential customers know exactly what services his company offers and how he can help them. His site offers a full price list for the services he offers as well as samples of his photos and videos.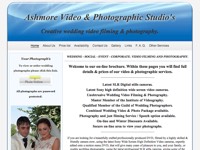 Kevin Lockey Solutions was created to showcase his Mac consulting business. He included testimonials, links and a blog on his website. See how Kevin used Sandvox to make his business's website unique.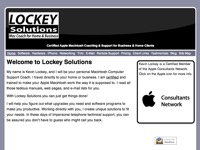 Miami Valley Dental Specialist created a dentistry website using Sandvox. Their site is unique and inviting and visitors can get a feel of what it will be like when they visit the office in person.
Whether you own an actual store or shop, you run your business completely from the internet, or if your business is something in between, Sandvox allows you to easily create a stylish website that matches your company's personality. With your Sandvox website, you'll have a unique way of showing visitors what you can offer them and why they should so business with you. 
You can include information about yourself, such as why you started the business, or about the company itself, such as how long you've been in business, what you've done for other customers, and even testimonials from customers who've used your products or services and were happy with the work you did.
Use Sandvox to give customers and potential customers information about what your future plans are for the business and tell them how much you appreciate their business. With Sandvox, you can do this by simply adding an introduction page to your site. Add photos and other interesting facts about the products you sell so customers get to know and like your business; making them all the more likely to buy from you.
So, whether your business offers services, sells products in a store or around the world, or whether your small business is run completely on the Internet without a brick and mortar establishment, Sandvox has the tools to build the perfect website to promote your business on the internet. 
Businesses That Provide a Service
Does your small business provide a service to customers? Do you want to put your company in the spotlight for everyone on the Internet to see? Sandvox lets you design a website for your business that will do just that. No matter what kind of service you provide—whether you're a lawyer, a tree trimmer, a hair stylist, a massage therapist, a plumber, or provide some other service to your customers—your clients and customers are likely to find your competition first if they are searching for your type of service in the Yellow Pages. Creating your business website using Sandvox to showcase your services greatly increases your chances of quickly multiplying your customer base, while offering many other benefits as well. 
Sell More From Your Store With A Sandvox Website
If you own a local business or shop where people come in to buy things, you can use Sandvox to promote your business too. No matter what kind of shop you own, you need a website to help promote that which you offer your customers and allow them to learn more about you and your business.  Sandvox has all the features you need to build a website that reflects what your business is all about so customers and potential customers are drawn to visit your store or shop.
A website built with Sandvox will also offer you the opportunity to increase profits by selling your items directly from your website to people all over the world who can't come into your store or shop. Sandvox makes it simple for you to show customers what you have for sale and sell it to them without them ever setting foot inside your store. You can add an e-commerce feature to your site without a hassle. Then, you can use a website like PayPal to process your customers' payments once they've made a purchase. With Sandvox, you can make sales you wouldn't be able to make otherwise. 
Businesses That Sell Things Around the World
If you have a small business that sells products to people all over the world, then Sandvox is just what you need to build the perfect business website. Design a website that gets your message out to millions of people who use the Internet every day to shop for, and buy, what they need and want. Whether your business is run completely on the Internet or if you sell and ship physical products like books or artwork, you can use Sandvox to build an online business website that thrives. 
Say It With Pictures
If your business involves selling products that would benefit by quality pictures, with Sandvox you can easily design a gallery of photos of your items that you are displaying for sale. Or if you have projects where showing the finished work would help a customer see what you can do for them, Sandvox has it covered. With Sandvox adding images to your site is quick and easy. In fact, you can create an entire photo gallery in just a few minutes! 
As if that weren't enough, Sandvox also allows you to create a "Photo Weblog"; a combination of a photo album and a blog where people can leave comments and subscribe to your RSS feed. When it comes to making photos a part of your website, it can't get any easier than using Sandvox's photo uploading tools.
Let Customers Know How To Reach You
If potential clients and customers can't contact you, they can't hire you or purchase from you. Sandvox makes it easy to add an interactive contact form so visitors can effortlessly get in touch with you to either ask questions about the services you provide or make an appointment; all without displaying your email address (that spammers tend to find if it's exposed on the Web).
Sandvox Makes It Easy For Your Business To Be Found
Part of owning any business involves advertising and bringing in new customers. Websites built with Sandvox are easily found in Google and the other search engines because Sandvox was built with search engine optimization in mind. Ranking high in the search engines means you're more likely to bring more visitors to your site and then you can convert those visitors to customers. 
Location, Location, Location
Building your website with Sandvox, will make it easy for search engines to find you, but Sandvox can also make it easy for customers to find your business's physical location as well. Sandvox allows you to display directions to your business as well as a map showing how to get there. Place Google gadgets on your site so your visitors can see the map and directions to your store right through Google. This way, they'll find your business quickly when they're ready to come in and shop.
Specials/Discounts
Use Sandvox as a free way to announce seasonal or holiday specials and discounts. You can even add Google Calendar to your site so your customers are reminded when to buy from you if they want to save a little money. Saving money is a great benefit to your customers and Sandvox helps you bring that benefit to them in a uniquely creative way.
Page Counter
Sandvox allows you to include a page counter on your website so you can keep track of how many people are visiting each day. Or, if you want something a bit more sophisticated, you can easily add in Google Analytics to your site.
Become A Blogger
Blogs are very popular these days, even for businesses, and blogging couldn't be any easier with Sandvox. Create a blog directly on your Sandvox site to let visitors know about your business or give them tips and techniques about topics that revolve around your industry. Refreshing your blog with new content on a regular basis is useful in remaining in the top of the search engines' listings. When you design your business website with Sandvox, you can easily add articles, tips, and techniques that your visitors can make use of — and that's content that search engines can make use of as well.
See Sandvox In Action
We receive hundreds of emails from customers who've used Sandvox to build their business websites and want us to see what they were able to do. If you'd like to see just a few of the many creative websites Sandvox can help you create, check some of our favorites in the sidebar. Or explore SandvoxSites.com for a much larger user-contributed directory of websites built with Sandvox.
Summing Up Sandvox
If you want to design a website that is as unique as your business is, Sandvox is the tool for you. Sandvox has all the capabilities you will ever need to create a stylish, one-of-a-kind website that show off what your business has to offer its customers. And, Sandvox is more user friendly than most other website design programs. So, if you're ready to see what Sandvox can do for you business's website, go download your copy today!