Examples of Sandvox-Built Wedding Websites
Below are just a couple examples of wedding related websites created using Sandvox. These will give you just a taste of what you can create for your own wedding website using Sandvox.

Sweet Tricia's (a dessert catering company) website was created with Sandvox to spotlight the talents, abilities, and services of the pastry chef owner Tricia. Among other things, Tricia's website displays wedding cakes, pastries, and dessert photos - all located on her gallery page. Using Sandvox's tools, she also includes an element page on her website which is simple, yet elegant.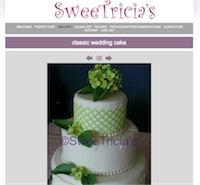 A Dream Wedding Website
So, you've just recently become engaged and you want to have a way for your family and friends — and the family and friends of your fiancé (or fiancée) — to be able to follow the two of you as you plan for your very special day. Why not build a wedding website so they can follow your wedding plans right up until the special day?
If this sounds good to you and you want to easily design a creative, unique, and artistic web page your friends and family are sure to love, than Sandvox is the right choice for you.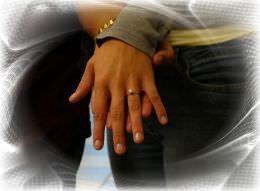 Sandvox Makes Designing A Site Simple And Fun
Your wedding website can add that personal touch for family and friends to enjoy everything that goes into planning your special day; with Sandvox you can even make your website interactive so family and friends can participate in the planning process; even if they live halfway across the world. Using the tools already incorporated into Sandvox, you can add all sorts of details on your website. Sandvox makes it easy to include on your wedding website things like:
Your gift registry lists — let friends and family know what you'd like to receive for your wedding and where they can get it by putting your wedding registry lists right on your website. Sandvox tools make it as easy as copying and pasting, and dragging and dropping.
Ceremony details — Sandvox allows you to easily add the details of your wedding ceremony to your website. Let family and friends know where the ceremony will be and at what time. And, if the details change, you to go in to your website and make the necessary changes to your ceremony details.
Reception details — When you use Sandvox to create your unique wedding website, you can easily let family and friends know where the reception will be and what the theme will be if you're going to have a theme. And, like all other content on your Sandvox website, making necessary changes to your reception details is super fast and easy.
Honeymoon details — Use your wedding website to let your loved ones know when and where your honeymoon will take place. You can even create a poll allowing them to vote on where they think you should take your honeymoon.
And so much more — When you use Sandvox to create your wedding website, you have total control over all the content you put on the site. You can make your site as unique as your wedding will be.
Sandvox allows you to design a creative, content rich website that's totally devoted to your special day. With Sandvox the hard work is already done for you; just add the unique content about your wedding and you'll have designed the perfect wedding website. You'll be surprised at just how fast and easy it really for Sandvox to help you create a wedding website you and your friends and family will cherish forever.
Exclusive Pictures
When it comes to adding photos to your wedding site, Sandvox is by far one of the easiest pieces of website creation software available. With Sandvox, you can add a photo directly on your website; allowing you to add a single photo on your website. Choose the best of all your wedding photos and easily have it displayed on your site for all your loved ones to see. Sandvox also makes it easy to add photo pages which will help allow you to design a photo album or gallery with even more pictures of that special day.
Since it's so easy to create photo pages using Sandvox, you have the freedom to get really creative with the photos on your wedding site. Post pictures of you and your fiancé as children, pictures of your engagement party, the bachelor and bachelorette parties, and photos of anything else you want to make available to your family and friends.
Be A Storyteller
Another amazing Sandvox feature is the Photo Weblog — a hybrid of a photo album and blog. Now, not only can you show off your wedding pictures, you can include touching stories and exciting highlights about the pictures you've taken. And, your friends and family members can make comments or tell their own stories about the photos and they can post them directly to your site.
Post Links To Your Registries, Ceremony, and Reception Info
Another thing that is great about this feature, you can also place an external link to the venue. You can include pictures or even directions. These lists of links are very helpful; you could list other accommodations as well. | With Sandvox, you can use your website as a way to keep family and friends "in the loop" about your wedding plans. You can link directly to the store websites where your wedding registries exist so friends and family can easily shop for wedding gifts. You can also place a link to the reception and/or ceremony venue with directions and even pictures.
And, if you have friends and family who will be coming to the wedding from out of town, you can even place links to hotel and motel accommodations.
Provide An RSVP On Your Site
Knowing who and how many people to expect at your wedding is a very important part of the wedding plans. Sandvox makes it easy for you to add a contact form to your site so guests can RSVP directly to your inbox! Using Sandvox to add a contact form to your site allows your guests to contact you easily and securely without you revealing your email address on your website; possibly exposing it for spammers.
Add A Musical Touch, Variety Of Video Options
Do you and your fiancé have a favorite song, or would you like guests to hear songs you've chosen for the wedding? Sandvox makes it simple for you to add multimedia files directly to your web page. So, you can display a video, audio, or even flash content right on your site for family and friends to view.
With audio and video content on your site, you can let your guests really get to know you and your fiancé. You can use Sandvox to add special videos of the two of you preparing for the wedding or, once the wedding is over, you can use Sandvox to add a "thank you" video to all those who attended and helped make your day special.
A Website That Grows With You — Even After The Wedding
And speaking of adding content after the wedding, use Sandvox to continue adding to relevant content to your website even after your special day is over. With Sandvox, you have the ability to add and edit new pages to your site whenever you like. So, you could post photos and video of your first house, your first anniversary, your first pregnancy, your child as he or she grows, and anything else about your new life as husband and wife. Doing this will keep you website current and up-to-date and doing it with Sandvox means you won't have to spend hours or learn a bunch of technical stuff. 
Why Would You Choose Anything Else?
With the many easy-to-use features Sandvox offers, it's really the only choice when it comes to creating a beautiful, user friendly wedding website. And once you've created your perfect wedding website, it can be enjoyed for years to come by all of your family and friends. If you're ready to create a wedding website that's as unique as you and your wedding are, then you need to download your free trial of Sandvox today.