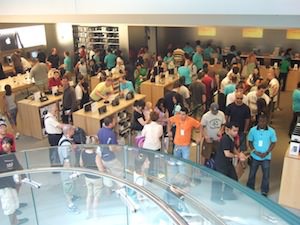 The day after Thanksgiving in the United States has come to be known as Black Friday, and it's a major shopping day. Many companies — brick and mortar, or click and order — offer special promotions and discounts to entice shoppers to buy.
It's a day of buying frenzy!
It's quite ironic that Black Friday immediately follows an American day of celebration with family and close friends, in which we reflect upon all the things we have to be thankful for.
So we at Karelia Software would like to offer a bit of a twist on a Black Friday promotion. On Friday, we are going to offer a substantial discount off of Sandvox (regular or edition, individual or household license) but we ask you to think back to Thanksgiving day's thankfulness and full stomach, and make a donation to a charitable organization to help somebody in need — somebody who doesn't have the luxury of using a computer, building websites, reading and writing blogs, chatting with friends all over the world, having a big feast with friends and family, shopping all day at the mall (or in front of the computer screen), and so forth.
We're asking you to take some of the money you are saving by buying Sandvox at a discount — or any other money you are "saving" on Black Friday by getting such good deals on all that stuff — and send a charitable donation to an organization that you feel has a worthy cause. Spread some of the warmth you have to somebody who doesn't have as much to be thankful for.
Where could you make a contribution? There's a community center or food bank in your town that could use some help. (A Google search for "charity" will likely find some nearby organizations.) Perhaps you'd like to help with an area recently struck by disaster, such as helping the flood victims of Typhoon Ondoy in the Philippines. Or you could pick a nearby classroom in a low-income area that needs funds for its programs. If you've read Greg Mortenson's Three Cups of Tea you might want to donate to his peace-creating school-building program in Pakistan and Afghanistan. Or, look up another organization that resonates with you.
How much you give is up to you.
Let's make Black Friday stand for something more than just a shopping frenzy.
Oh yes, the coupon code for a 50% discount off of Sandvox, valid on Friday November 27 2009, is "make a donation". You'll save between $28 and $68 from this deal, and we hope you'll use that to give somebody else something to be thankful for.