Yesterday we released Sandvox 2.2. It's quite a big update and we're pretty excited about it! So what's new? Let's take a quick tour of the highlights:
Well, first up, we have a great new Map object. Perfect for advertising the location of your business, or where an event is taking place. It's powered by Google Maps, so should be plenty familiar to most visitors. I've popped an example in below:
Our second major feature has been quite some coming, and oft-requested, albeit not terribly glamourous — list editing! Sandvox 2.2 features a brand new Text Inspector giving you full control over list indenting and numbering: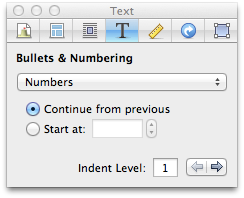 The HTML Editor has gotten some love, gaining indentation controls (use the same menu items as for lists), and a Tidy HTML feature.
We also play a little nicer with Lion now, respecting your setting under: "System Preferences → General → Restore windows when quitting and re-opening apps"
That's the major highlights; more can be found in the full release notes!