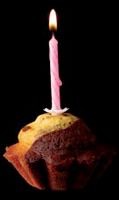 One year ago today, we released the first version of Sandvox.  That means that Sandvox is a year old!  Just a toddler by human standards, but in internet years, like dog years, Sandvox is an active kid, already at version 1.2 and, in a few weeks, version 1.2.1.  My how you've grown!
Back in our secret labs, we're already starting to work on some new features and updates for the next major version.  We have learned a lot about what our users want, and so we are re-building a few components of Sandvox "from the ground up."
Thanks very much to our vibrant community of Sandvox users who have made this a happy birthday indeed!