Yesterday morning we revealed a new website, Sandvox Designs.
It's a one-stop shop for all publicly released designs for Sandvox, free or otherwise.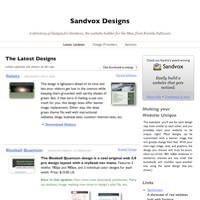 Right now, there are designs from three commercial vendors, as well as Karelia.  For each design there are descriptions, links to buy or download, full-size screenshots of the design in action (either as a demo site or somebody's website that they graciously submitted), and, in many cases, links to live websites using those designs.
One design that can be directly downloaded is Galaxy, a brand-new design we are making available for free.
This website really started as a side project; we had been building a database of designs for use within Sandvox itself — you can see this in action if you are beta-testing version 1.6 — but we figured that the information would reach a new audience if we put it on the web.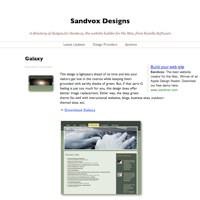 The website is very heavily database-driven, but the overall site is built out of Sandvox, using the "Clean Sheets" design. (At some point, we hope to make a screencast explaining how we integrated the PHP with Sandvox to make this all possible.)
To any individuals or companies that have produced designs for Sandvox: we hope you will drop us a line so we can get you set up to enter your designs for this website!