Our blog
Happy New Year!  The end of the year, whether it's because it's a time to reflect on the state of the world, or just tax purposes, is a traditional time for making donations to charitable causes.  Here is a story about one that we thought we would pass along.
Mike Lee, programmer at Delicious Monster, recently issued a challenge to the Mac developer community to donate to the Madagascar Fauna Group, an organization working to conserve Madagascar's lemurs and other spectacular wildlife.  He started up Club Thievey, an appeal to donate with an interesting twist: Mike will send you a plush lemur just like his if you make a donation of $100 or $10/month.  (Naturally, we signed up — when the "world's toughest programmer" issues a challenge, we are quick to respond!)
This challenge may have been targeted to Mac developers, but Mike states that Mac usage and programming experience are not actual requirements.  So we thought we mention this to the readers of this weblog.  Make your donation by Midnight tonight for a coveted spot in the Founding Troop.  We're not sure what that means exactly, but it sounds like a good idea!

Tomorrow, December 8, Sandvox will be a featured application — with a 20% discount — on MacSanta.  If you have been putting off purchasing a license to Sandvox, or you'd like to stuff somebody's stocking, tomorrow is the day!  
Since December 8 has already arrived in some parts of the world, we're activating the coupon code early, so starting now, the coupon code MACSANTA07 will give you a 20% discount at our online store.
So far, this "grassroots" promotion by and for independent Mac software vendors has featured deals from the friends of ours at Noodlesoft, Vela Design Group, CocoaTech, Red Sweater Software, Clickable Bliss, Rogue Amoeba, C-Command Software, Potion Factory, and many more. Even if you've missed the featured day with a 20% discount, you can still get a 10% discount by using "MACSANTA07TEN" as your coupon code for any of the companies found on this ever-growing list.
MacSanta is a great way to find out about quality software from independent developers.  Help spread the word about MacSanta by digging it!
Happy December! Today marks the beginning of the MacSanta promotion — hosted by the fine folks at Rogue Amoeba — which offers discounts on software created by independent Mac software developers.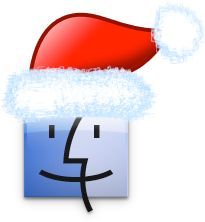 Each day, five companies (and their applications) are featured, with discounts of twenty percent off — but only for that day. If you missed that day's deals, you can still get a ten percent discount through the end of the month.
Karelia Software's Sandvox will be featured in about a week; we'll be sure to mention it here just beforehand.
So be sure to visit MacSantaDeals.com every day throughout December — or better yet, subscribe to the RSS feed to be automatically notified each day — to be introduced to a variety of software packages created by "indie" vendors. Most of these are demoware ("try before you buy") so you can really take them for a spin and see if they are right for you.
Whether or not you believe in Santa Claus, there is certainly reason to believe in MacSanta.