Our blog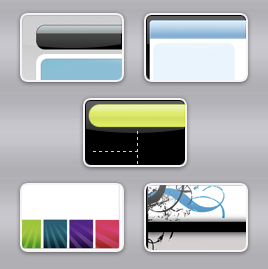 Earlier today, we learned that Jumsoft — makers of a number of Mac applications and add-ons for Apple's applications — has joined the ranks of third-party design providers by releasing five beautiful designs for Sandvox.
The designs (or as Jumsoft calls them, "Themes") are as follows (taking the description from Jumsoft's press release). [Hyperlinks open up a demo website for each design in a new window.]
Business: The background blends from a light color to white, enabling your visitors to keep their attention on the important information. The atmosphere of the Business theme is in between solid and fun, so neutrality is guaranteed.
Color Beauty: Three main colors prevail in Color Beauty theme - white, black, and a bright one that you will choose. Surprisingly, the loudness of the bright colors is not too intense. There are also sheets for the particular layouts so customer's Web site content will be noticed quickly.
Paradise: The Paradise theme has a solid atmosphere with a little bit of fun. The neutral background, which blends from black to grey, allows you to play with other colors without the fear of a too-loud color scheme.
Rainbow: Rainbow theme is vivacious and colorful, providing a bright contrast to white space. The theme is especially good for those who have a convivial outlook on life, but it is also great for anyone wanting to make documents more engaging.
Sensitive Steel (pictured here): This theme stands out against two different things art and steel. The unconventional and successful image of fancy steel lends a feeling of warmth, though the prevailing color in this theme is grey. Sensitive Steel does not work well for strong and serious business images, but it perfectly reveals your artistic spirit and provides a cozy atmosphere for your Web site.
We are really "psyched" to have Jumsoft on-board.  We hope you will check out their Sandvox offerings — and
all their products
, for that matter. Jumsoft really has a great sense of design, and we are happy that they have chosen to apply their good taste to Sandvox!
Sandvox 1.5.3 is now available for downloading from our website. It's a maintenance release that you will want to get if you have an earlier version of our award-winning website builder.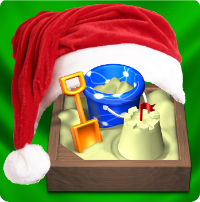 The big news is that we have a special holiday coupon code for Sandvox. If you use the coupon code "SANTAVOX" on our online store, you will get a 20% discount off the regular or Pro edition.
New to our store is the ability to specify somebody else's name for the license, so you can now give Sandvox as a gift for family or friends.
Savings from Blueball Design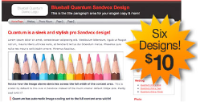 We've had great feedback from Sandvox users who've based their sites on designs from Blueball Designs. Charlie Lockhart and his team are now offering several design packages at attractive prices, including the new Quantum design. Quantum features three color schemes and is available in two widths, giving Sandvox users additional flexibility. The Quantum design package also features automatic rescaling of any image above the content area to fit the page's content area, detailed Readme files with tips on maximizing design features, and six Photoshop CS3 Image Files you can use to create custom banner images. Six designs for $10... it's a hard offer to pass up!
Even More Savings from our Hosting Partners
Extending your savings with Sandvox is simple thanks to Live Oak Hosting, Server Logistics, and A2 Hosting, all of whom offer discounts to Sandvox users:

Live Oak Hosting, based in Austin, Texas, is a small, family-run ISP that offers personal service. Hosting plans range from $10-$45 per month with greater savings when paid annually, as well as custom packages. Live Oak promises satisfaction or they will pay your costs to switch to another host. Use the coupon code "sandvox" when you sign up to get a 10 percent discount.
→ Visit Live Oak Hosting.

Server Logistics, based in Los Angeles, California, offers hosting in their secure 10,000 square foot carrier-class data center facility using rock-solid Apple Xserve technology. Prices range from $9.95/month to $69.95 per month with greater savings when paid annually. Server Logistics offers a 30 day money back guarantee. Use the coupon code "SANDVOX" for a 10 percent discount.
→ Visit Server Logistics.

A2 Hosting, based in Ann Arbor, Michigan, takes pride in its customer service, 99.99% uptime guarantee, and "green" business practices. Prices range from $4.95 to $7.95 a month for shared hosting, with dedicated, semi-dedicated, and virtual dedicated servers also available. A2 offers a 30 day money back guarantee. Use the coupon code "a2sandvox" for a 15% discount when signing up.
→ Visit A2 Hosting.
We hope that in these tight economic times, we are helping to provide you with a cost-effective way to build and deploy a beautiful website that suits your needs. Whatever your holidays may be, we at Karelia wish that they are happy and healthy.
From time to time we share sites created by Sandvox users that demonstrate certain features or suggest interesting solutions. In this blog post we're delighted to direct your attention to Neil Boyd's site, I Saw How.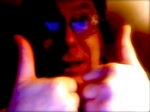 Neil has been sharing his enthusiasm for Sandvox in exceptional ways, participating in our online forum and providing excellent feedback to our development team. For those of you who haven't had the benefit of Neil's advice, don't wait another day to visit I Saw How, his Sandvox solutions site filled with helpful tips, screencasts, and a growing bank of step-by-step instructions under the "HowTo" heading. Whether you're starting to experiment with the Code Injection feature of Sandvox Pro or are considering ways to extend the performance and capabilities of your Sandvox site, we encourage you to check in with Neil.